Game of the Year turns the tabletop into a video game studio hungry for awards
Kickstarter launches June 28th.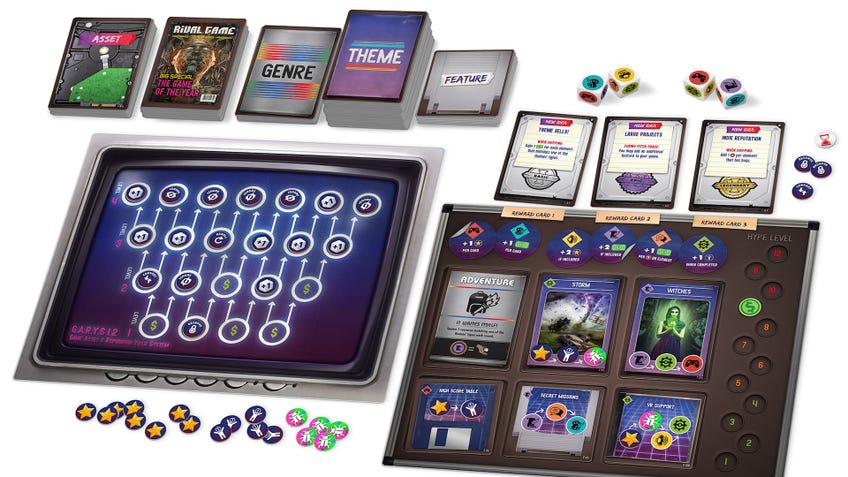 Could a video game about Cthulhu driving a taxi with incredible hair physics win an award? Game of the Year, an upcoming board game with a soon-to-launch Kickstarter, gives players the tools to find out.
Game of the Year is the latest title from German studio Nice Game Publishing and attempts to cross the streams of bitter rival hobbies video games and tabletop games by presenting an experience all about developing an awards contender that will keep the lights on for at least another fiscal quarter.
One to four players take on the precarious role of a video game developers trying to suss out what genre, mechanics and features will woo the general public and voters at the next annual Game of the Year awards show. Each player's prospective project combines elements drawn from different decks, each providing something hopefully unique enough to stand out in the digital crowd. Sessions last between 20 minutes and an hour, and the publisher says the amount of cards included in the game will allow for a vast amount of variability during replays.
Players can either square off against each other or combine dev resources to take down one of the breakaway hit rival games of that year, such as "friendship RPG Diabro" or other thinly veiled homages. Hiring specialists and staffing up with talented employees will provide helpful dice and other bonuses that provide an edge during the conception stage. But a good video game doesn't succeed on its own - players will also need to manage the "hype level" surrounding their creation if they hope to keep the buzz alive well into awards season.
It seems like an earnest attempt to adapt an admittedly simplified version of the decisions video game developers make regarding the future of their companies. "At the same time we wanted to explore the less glamorous sides of the industry and poke a bit of fun at those. So in our game, whether you make a classic 3d-Shooter in a SciFi setting or a beekeeping management sim featuring ancient Egyptians is really up to you," said Simon Schwanhaeusser, CEO at Nice Game Publishing in a press release.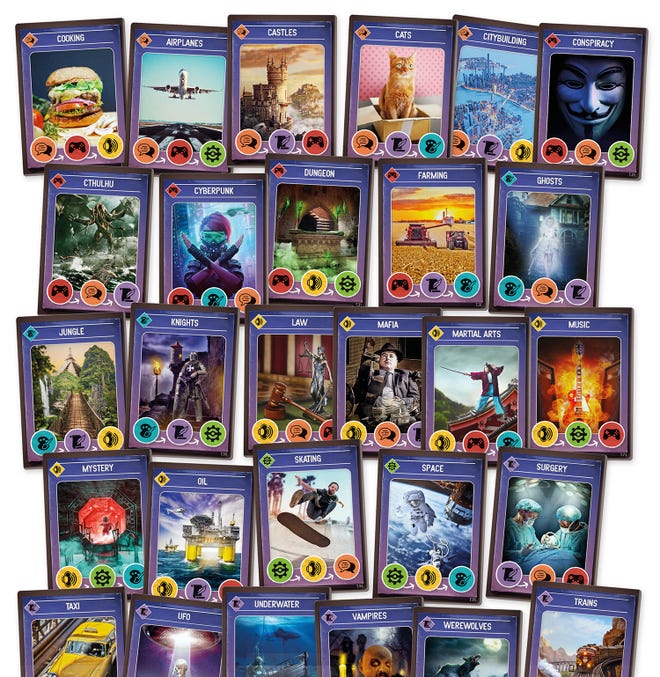 Game of the Year's lighthearted lampooning makes sense as a good time shared with friends - don't expect it to address the history of crunch culture that's led to labour abuses, burn out and health concerns, nor the rampant racism, sexism and constantly mounting allegations of sexual abuse that individuals within the video game industry forced into the public eye throughout 2020.
Nice Game Publishing previously released Vampire: The Masquerade – Heritage, a legacy card drafting title based in the popular modern fantasy RPG universe, along with the colourful civilisation builder Dragon Canyon.
Game of the Year comes to Kickstarter on June 28th. Information about pricing and estimated release dates will likely be made available then.