Great Western Trail board game blazes a path toward a second edition and new trilogy
Git along, little doggie.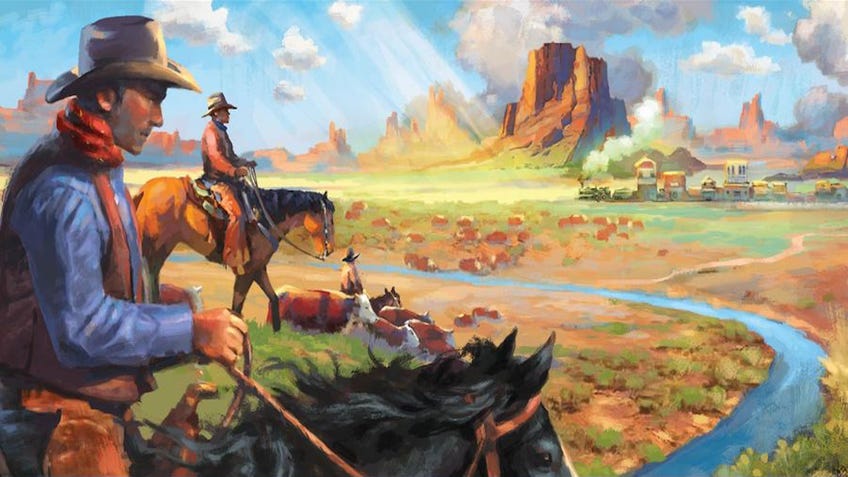 Beloved board game Great Western Trail is planning a second edition release as part of a new Epic Trilogy from publisher Plan B Games, beginning this year and releasing through 2022.
Plan B took to its official Facebook page February 16th to announce that Great Western Trail's second edition would be co-published alongside Eggertspiele. Original designer Alexander Pfister - also known for Maracaibo and Isle of Skye - has returned to the project, which will feature all new artwork from illustrator Michael Quilliams on the box, as well as the assets inside.
"I drew inspiration from the Sergio Leone spaghetti westerns – with wide shots of the beautiful American west. It captures a mood that is indistinguishable! We wanted that same feeling in Great Western Trail," Quilliams said in the Facebook post.
It's not yet clear whether the upcoming board game, called an "essential edition" by Plan B, will enjoy any updates or changes to its existing rules, but the fact that a compatible Rails to the North expansion - first released in 2018 - is also planned for the future hints at more than just revitalising the box art. Dicebreaker has reached out to the publisher for more details and will update this story accordingly.
In Great Western Trail, two to five players fill the dusty boots of cattle drivers leading their herds from the grasslands of Texas to the livestock markets in Kansas City. They earn victory points based on the number and quality of cattle that successfully navigate the treacherous journey, with different breeds and other factors affecting the score at the end of each drive.
As turns unfold, opportunities to improve the trail will become available - some may choose to invest in better buildings to ease travel or construct railroad tracks to circumvent particularly dangerous country. Cattle are represented by cards in a gradually constructed deck that have particular numeric value, and a rondel displays various additional actions players can elect to take on their turn.
It should be noted that the 2016 release of Great Western Trail featured an "Indian Trading Area" and teepee tokens that represented indigenous people trading with the cattle drivers along the trail. In a 2017 interview with Yellow Parable, Pfister claimed that the non-violent interactions between the players and non-playable indigenous circumvents problematic portrayal of colonizers during a period of history where vast amounts of land was being stolen by frontier settlers, and tribes were pushed off their homes through violence in the form of both traditional weapons and federal legislation.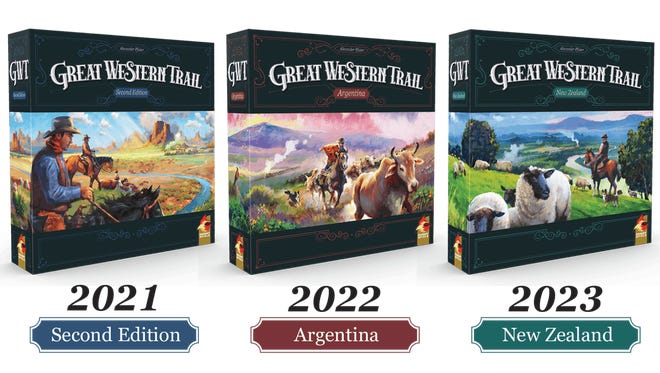 "There is no violence, no fighting in Great Western Trail. I think this is a big difference to films and books. It is a game feature, not judging about morality. During the game you trade with Indians, and this trading brings white men and Indians together," Pfister told Yellow Parable.
Great Western Trail's second edition is scheduled to release in late summer of this year, while the other two games in the planned trilogy will each release during the same period in 2022 and 2023. Both will transpose the cattle herding gameplay of the main title to new locales around the world, first to Argentina and finally to New Zealand. The spoiler image shows box art consistent to the first game but portraying vastly different climates and vistas - sheep instead of cattle on the New Zealand box hints at different livestock, at least.
The release claimed the mechanics for Argentina and New Zealand will build upon the deckbuilding and rondel elements with distinct additions and variations in both, providing a tabletop experience that plays as differently as it looks.
Pfister said he was excited to return to his most well known series of board games to expand the series. Plan B Games and Eggertspiele plan to release more details in the coming weeks ahead of Great Western Trail's second edition release later in 2021.