Embrace the theatrics and physicality of Hibachi as you cook - or steal - the perfect meal
Making a dog's dinner of it is the whole point.
Hibachi is a new dexterity game themed around the fast paced action of a Japanese teppanyaki restaurant from Grail Games, publisher of Medici, Yellow & Yangtze and others.
In Hibachi, two to four players tie on an apron, don that tall red hat and belly up to the flat iron griddle sometimes known as hibachi. The goal is to grab the fresh ingredients needed to cook your customers' orders right in front of them. But the chefs apparently don't have time to wait for their turn at the scallions because Hibachi tasks players with physically tossing their bets on the board. Knocking a rival cook's money out of the way is a completely legal move, so precision and a dash of cunning might ensure your customers' meals come first.
The goal of the game is to fulfill three full orders before anyone else, so if your dexterity can't bring home the bacon - so to speak - the cash in your pocket just might. The second phase of the game allows chefs to buy and sell ingredients from each other using their collected tip money. Deciding how and when to deploy your resources adds an interesting tactical element to a game of frenetic chip-tossing.
Hibachi is a retooling of 2010's Safrantio, which pitted Indian spice merchants against each other in a race to please the Maharaja with the perfectly seasoned meal. Fans of that game will recognise the interweaving of marksmanship and mercantilism. Australian publisher Grail Games has made a name for itself by improving and releasing older titles that might be difficult to acquire. The term "grail game" often refers to a board game that is highly sought after but difficult to find.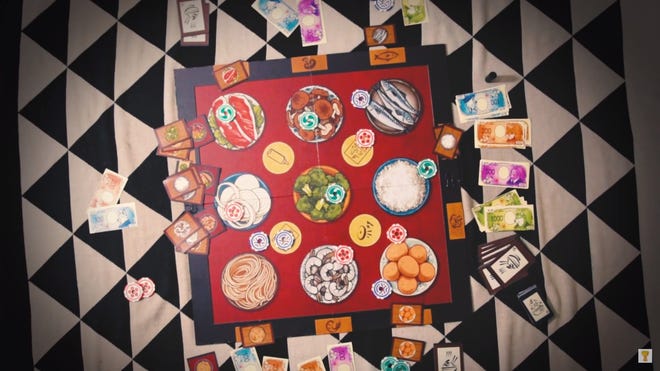 Hibachi maintains the core premise of Safranito while retheming it to a family restaurant operated by skilled animals. And who wouldn't want a calico cat or smirking fox to flip grilled shrimp into their mouth for a laugh?
The Kickstarter campaign for Hibachi will stay live until November 30th. A physical version of the game is available for AU$62 ($45/£34), with delivery expected to begin in November 2021.