Cyberpunk social deduction game Human Punishment returns with prequel The Beginning
Turing up the night.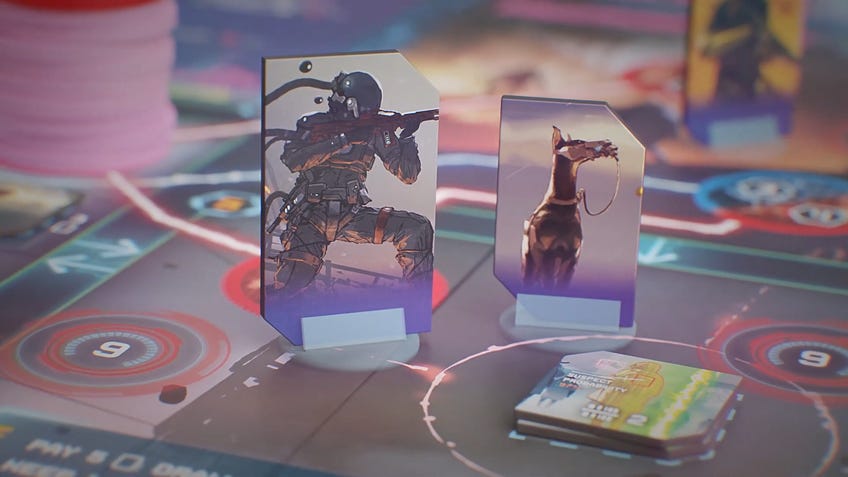 Human Punishment: The Beginning returns players to a dystopian science-fiction metroscape for a standalone social deduction experience from German studio Godot Games that expands on the original game's premise, fleshes out its worldbuilding and provides options for campaign play.
Players take on the role of a member of GHOST, a government unit tasked with defending humankind against a burgeoning machine revolution composed of members from the four major factions: humans, machines, the Legion and the Fallen. Depending on the chosen faction, player goals will shift in each session and possibly force you to conspire with would-be foes or betray ostensible allies.
All players work towards the goal of protecting the city by eliminating threats and collecting resources that preserve a tenuous balance. At the same time, players will be sabotaging defence efforts, converting allies to their cause or disseminating false leads to cover their tracks. Playing well isn't enough to win - doubt every motive and expect betrayal at all turns.
The Beginning leans hard into its cyberpunk aesthetic with electric colours on board elements and a distinct character art style that portrays a world of feast and famine where the line of biological humanity has been indelibly blurred. The asymmetric play style apparently works well with groups between three and six players with minimal alteration to the core rules.
It also includes what Godot Games calls its Connected World System, allowing players who own Human Punishment: Social Deduction 2.0 to combine the two games and run a campaign mode - the decisions made and outcomes reached in The Beginning create alternate conditions and narrative pathways when the group tackles the original game as a final conflict. Godot Games writes on the Kickstarter page that the CWS provides both titles with a wealth of replayability and varying stakes each time they are played.
Human Punishment: Social Deduction 2.0 launched on Kickstarter in September 2017 and reached full funding within two days. The Hell Gate expansion followed in January of 2019, providing more options and variability to the original's gameplay. The Beginning will be the second core release from Godot Games whose Kickstarter campaign reportedly surpassed its funding goal in six minutes.
Backers can pick up a copy of the game for €55 (£49), with shipping expected to begin in September of this year.