Superhero dice game Kapow! returns in second edition from Star Realms studio
Roll for Spidey-senses.
A not-quite-new, one-on-one dice game from Star Realms publisher White Wizard Games features buildable dice in a battle between superheroes and villains. The current Kickstarter campaign benefits the second edition of Kapow! - a sequel to the one published in 2019 under 2 Ton Porcupine.
Playing Kapow! should feel like the part of a comic book movie where the protagonist and their foe meet in an abandoned lot/science lab/top of a skyscraper and really let loose. Two players have a board each that provides information on their abilities and starting dice. You roll those dice behind the secrecy of a private screen and decide whether to attack, defend or juice up your stats. When the screens are removed, tally up the damage to see who's left standing.
The kicker comes from that "juice up", which allows players to add new faces to their dice or gain additional dice to their pool. You won't know what your opponent chooses until the reveal, so careful planning will separate the super-amateurs from the victorious.
The Kickstarter page provides an early look at many of the heroes and villains available in the second edition, but they also offer a chance to grab a re-release of the first edition. White Wizard says that both versions are compatible, so those who spring for both can intermingle the new heroes and villains with those who showed up in the original box.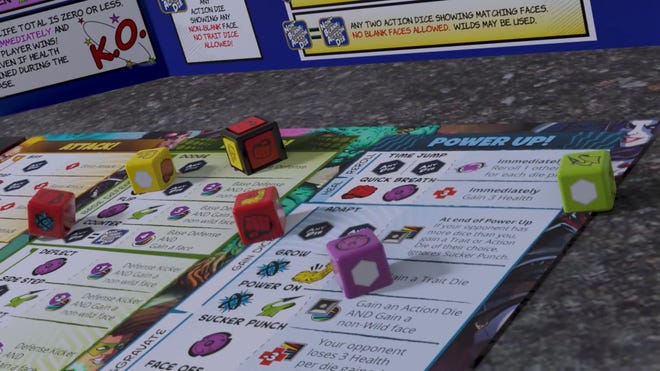 Announced stretch goals include new co-operative and solo game play modes and new heroes and villains, including Porcupine - an homage to the original creators.
Kapow! was released in 2019 by Connecticut-based 2 Ton Porcupine. White Wizard says on the page that it met the designers behind the original Kapow! at a convention and were so impressed by the game that they helped bring it to other conventions. The two then decided to collaborate on the second edition to the game.
The Kickstarter for Kapow! runs until December 3rd. Shipping for both volumes of the game are expected to begin in December of next year.