Tile-placement board game Koi Garden wants to help players relax and unwind.
Fishy fun.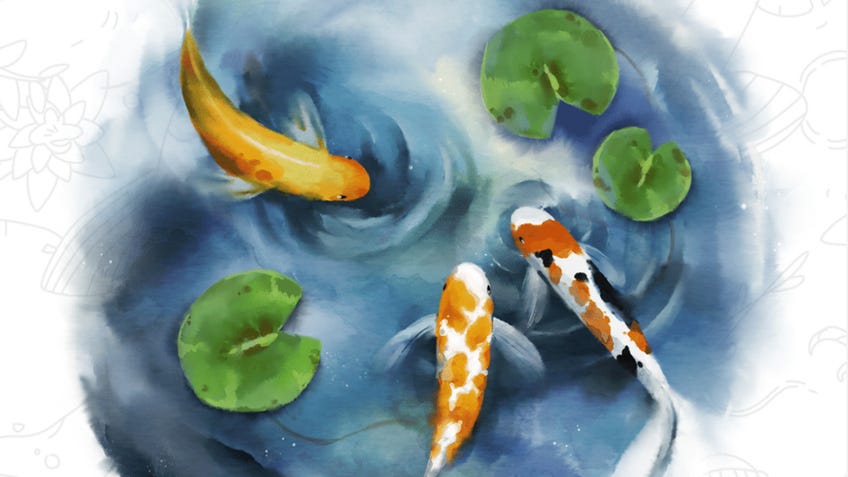 Construct a beautiful backyard landscape, complete with ponds, flowers and wildlife in Koi Garden, an upcoming board game that emphasises de-stressing during play.
Created by designer Floyd Lu, Koi Garden tasks two to four players with tending and growing their own beautiful expanse of ponds, paths, lanterns and wildlife. Each turn, a square land tile can be drawn from the market and placed either on the starting tile or any other previously placed land. Different orientations provide unique pathing options, making each decision pivotal for the future growth of the garden.
Once placed, an associated wildlife will find its way into the garden and begin moving along the paths according to its own set rules - the koi swims through brightly lit ponds, while butterflies require flowering bushes to guide their way. Attracting a large variety means scoring more points, so players will want to shift their focus often to ensure their garden is full of happy critters.
Unfortunately, your garden can quickly become crowded and restrict new arrivals from accessing the deeper paths and streams. Deploying a temple lantern or using a tool will cycle the available land cards and potentially provide new routes around that plodding snail in the grass. At the end of last round, all players tally the score accrued from wildlife and the extent of their own garden, and the player with the highest score is declared the winner.
Lu previously designed board games at B&B Games, creating titles such as Refuge: Terror from the Deep and Noises at Night. He claimed the stress from 2020 led him to create an experience that was enjoyable but also a balm for anyone else struggling with a continued life under quarantine.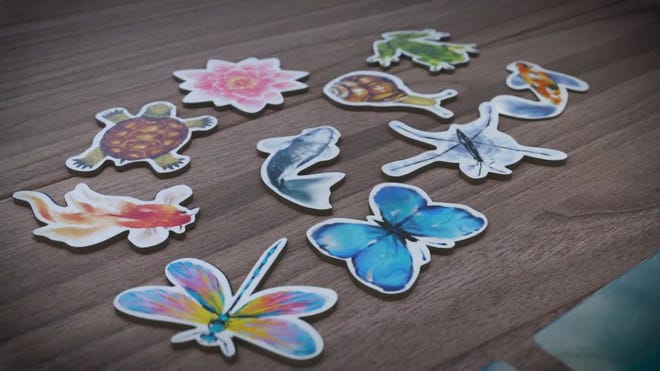 "The game was developed to mindfully disconnect from everything that is going on today and enjoy what makes us happy," he said on the Kickstarter description page. "In 2020, I realised that we all needed to plug off, take a break, and play with games that heal the mind. So I took some time off from my usual design themes to create something that cultivated my inner peace."
Koi Garden's competitive nature doesn't conflict with its goal of providing a more serene avenue of play, Lu claimed. Players only interact with their pond and not each other, allowing individuals to focus on the puzzle-like paths of their gardens and ponds and let everything else fade into the background.
The Kickstarter campaign for Koi Garden will run until May 10th, with backers able to secure a copy for $19 (£14). The game is a Kickstarter exclusive, and Lu doesn't plan to hit major retailers at this time. That said, the campaign offers a retailer pledge level, so it might show up in local game stores once shipping begins in August of this year.