Acclaimed mecha tabletop RPG Lancer announces second physical printing with Dark Horse Comics
Massif Press' teaming with the comic book leader could signal a huge boost in Lancer's popularity.
Widely popular "mud-and-lasers" tabletop RPG Lancer has announced that it will publish a massive second printing of its physical rulebook next year in collaboration with Dark Horse Comics.
News of the print run, which is currently aiming to drop on June 11th, 2024, dropped via Lancer's official Twitter account on September 28th. Copies are currently available for preorder directly from Massif Press' website but will also be available in local game stores, comic shops and related retails shops
Co-creators Miguel Lopez and Tom Parkinson-Morgan aren't planning a major rules overhaul for the science fiction RPG set 15,000 years in Earth's future but instead will feature high-quality print materials and a digital copy code bundled with every book that can be redeemed via Lancer's Itch.io page.
Lancer crowdfunded its original rules in May 2019 via a Kickstarter campaign that raised nearly $500,000. Since then, Lancer players and a community of related creators have consistently fueled a thriving scene around the RPG. The original print run sold out some time ago, but a digital version has remained available through Massif Press' website. This will be the first time since the Kickstarter campaign that fans will be able to get their hands on a paper copy of the core book.
Massif Press is offering an alternate art cover illustrated by Peyton Gee when purchasing directly from them, but the book can be pre-ordered at "most major retailers" and local shops, according to the Twitter thread. All copies of the book published in this second run will contain a digital copy at no extra cost.
Playing Lancer means exploring a future version of humanity that barely survived full societal collapse. A successful (ish) utopian project sprang from the wake of this near-disaster, but the sheer scope of society's reach amongst the stars means not everyone enjoys the fruits of UNION's benevolent work.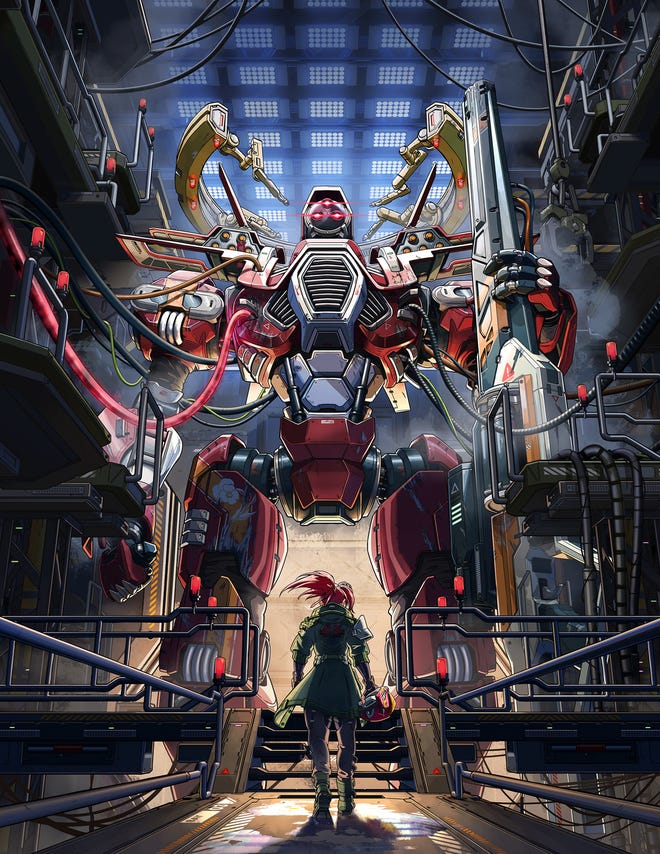 Groups fill the role of mech pilots with their unique and colossal machines, fighting on the fringes of UNION's influence against a variety of threats to humanity's golden future. Some of them are mundane - greed, corruption, nepotism and straight-up power hungry despots. Others are more existential and weird, threatening more than just a stable future for humanity's next generation of galactic inhabitants.
Massif Press' collaboration with Dark Horse Comics is a big deal, as the publisher of comics and graphic novels has been in the print game for decades and boasts the kind of distribution connections most non-Wizards of the Coast publishers can only dream about. Lancer's fans have kept the fires burning since its initial release, transforming a unique sci-fi RPG into a genuine phenomenon, but this second printing might preclude a further explosion in popularity.