A love letter to Magic: The Gathering and its players, Dominaria Remastered is a strong start to 2023 for the TCG
27-in-1 design.
Dominaria Remastered is the first big Magic: The Gathering release of 2023. Given that last year we dribbled out of the gate with the deeply underwhelming Innistrad: Double Feature, not to mention how good the similarly revamped Time Spiral Remastered was, the set has a lot of expectations and excitement around it.
This being a remastered set means there are no new cards here, although there are some new pieces of artwork and new frames for older cards. It's advertised as being a celebration of the plane of Dominaria - one of the most popular worlds in MTG and the first plane we ever visited in Limited Edition Alpha - and pulls cards from 27 different sets across the game's 30-year history.
Not only that, but in an era when we're getting more Magic: The Gathering than ever, with 2022 being exhausting for a lot of fans, each set feels both more fleeting and more important because we'll be moving on swiftly from it. The highs and lows of each new release feel almost indicative of the rife capitalism that's overcome MTG over the last three or four years - the Collector Booster packs of Standard sets, the ridiculous MTG 30th Anniversary packs and Secret Lairs in general.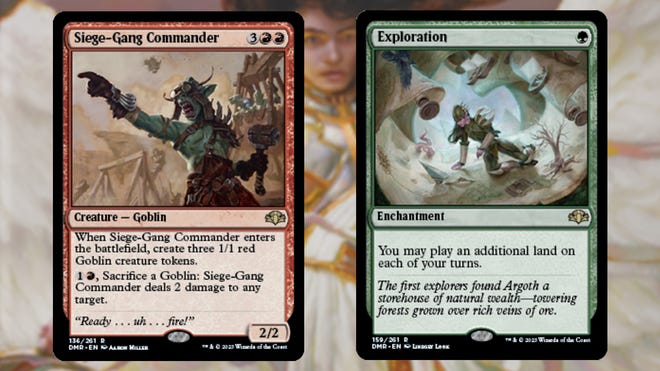 That's a lot of preamble to say that, in short, this set is a big deal - and if it's bad that would be, well, very bad. It's refreshing, then, to be able to say that Dominaria Remastered is a truly wonderful Magic: The Gathering set; one that not only does justice to the game itself, but also feels like a rare win for players when it comes to less exciting things, like its price point.
Dominaria Remastered is, in essence, more akin to a Masters set than anything else. Sure, it's a celebration of Dominaria - but because the plane has been so ubiquitous over the years, this means that some of the best cards in Magic: The Gathering hail from there. As a result, this set is absolutely filled with cards that most players would be happy to end up with in a lot of formats.
Dominaria Remastered not only does justice to MTG itself, but also feels like a rare win for players when it comes to less exciting things like price point.
You only have to look at our list of the best Dominaria Remastered cards to see just how much power there is in this collection. Even outside of classic staples like Force of Will and Urza, Lord High Artificer, you've got the likes of Siege-Gang Commander, a five-mana goblin that lets you throw goblins at things for damage, and Exploration, a one-mana enchantment that allows you to play one extra land in each of your turns.
Even among lower rarities you have classics like Mesa Enchantress, a staple of a lot of silly enchantment decks, and Swords to Plowshares, one of the all-time best removal cards. It's just chock-full of cards that players will be happy to see whether they're cracking packs for the joy of it, living the dream with Pack Wars or playing Dominaria Remastered in limited formats.
Speaking of limited, both Draft and Sealed look to be incredibly well supported here. The sheer volume of heavy hitters and the fascinating mix of cards makes for a phenomonal experience. Newer players will feel like they're getting an MTG 101 lesson, and older players will constantly be finding cards they used to love and play with.
It's a mix of so many iconic cards and time periods from across MTG that you'd struggle to find a better set to represent the card game as a whole.
It's a mix of so many iconic cards and time periods from across Magic: The Gathering that you'd struggle to find a better set to represent the card game as a whole. Dominaria Remastered is a time capsule of sorts that drags players through a whirlwind tour of what's come before. The only downside of this is that it may be a little bit overwhelming for newer players due to the sheer volume of mechanics and playstyles on offer.
There's no simple list of mechanics within Dominaria Remastered because of how many sets it pulls from. That means that players who are unfamiliar with some of the older cards may find themselves a bit lost. They'll probably manage to push through anyway, because many cards from yesteryear are generally easier to understand than some of the newer ones we get, but it's worth mentioning.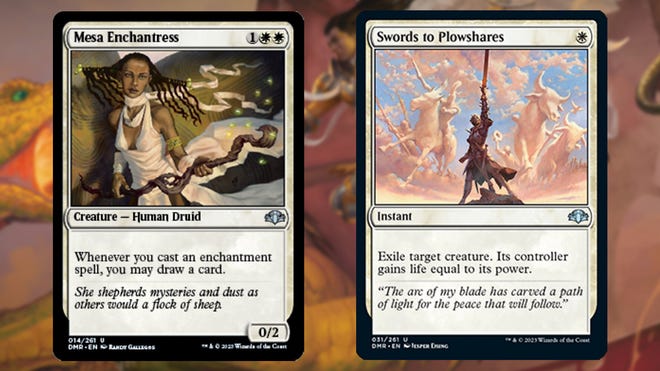 Actually, the most glaring issue that Dominaria Remastered arguably isn't within the set itself, but one it highlights in the game as a whole.
Magic: The Gathering has felt like it's been becoming more and more capitalistic for a few years, but both 2021 and 2022 felt especially egregious. A lot of decisions were made that felt as though they were solely for making money, often at the expense of player experience or their general enjoyment of the game. Just look at the likes of the obnoxious price, and frankly insulting contents, of the Magic 30th Anniversary packs; a feeble imitation of the real thing and a mortgage-ruining cost for cards that can't even be played in real tournaments.
With Dominaria Remastered leading the way in 2023, it almost feels as though we're kicking off the year with a different Wizards of the Coast in charge of the game. Here we have a set that isn't overpriced, is filled with good value from both a fun and finance perspective, and pays homage to the game's history.
This, basically, is what should have been at the top of MTG's 30th anniversary celebrations when they kicked off last October. That makes a lot of sense when you remember that the first Magic: The Gathering set was actually released way back in 1993, making 2023 the actual 30-year anniversary. Maybe this was the plan all along, but we sort of doubt that.
Either way, it sure is nice to just have nice things to say about Dominaria Remastered. It's a truly fantastic way to kick off 2023 for Magic: The Gathering.