MTG players accuse Wizards of the Coast of using AI art in Tomb Raider Secret Lair advertisement
A now-deleted tweet caught major flak for using what many are calling an obvious use of AI-generated assets.
Magic: The Gathering players have accused parent company Wizards of the Coast of using AI-generated art in an advertisement promoting the Tomb Raider Secret Lair crossover. The now-deleted post to X.com was immediately needled with criticism by dozens of users, and a new ad posted later that same day no longer contained the alleged AI-created assets.
The MTG Secret Lair account initially posted the offending image on November 13th, which contained three pieces of artwork from the upcoming Tomb Raider Secret Lair drop posted in what looks like a '70s or '80s style den. Two are used as posted taped to a wood paneled wall, while a third plays on a retro television set.
While the artwork from the cards - designed and illustrated by humans - were untouched, dozens of players pointed out that nearly every other element bears tell-tale signs of large-language model manipulations: shadows inconsistent with objects in the scene, missing or misshapen legs on the table and the edges of the carpet and the TV's base crawl over other textures, among others.
Watch on YouTube
MTG eventually replaced the post later that same day, this time using a more traditional composite image of the previewed cards with a few background details. Commenters were quick to reference the attempted memory hole-ing, often with a heavy dose of sarcasm, and one user rehosted a screenshot on the largest MTG subreddit.
Wizards of the Coast flirted with an AI art-related PR kerfuffle earlier this year when several illustrations used in the Dungeons & Dragons supplement Bigby's Glory of the Giants were flagged by the public as obviously including significant marks of AI generation.
The company later said that it was not aware of the illustrator's use of AI scripts, bots or other LLMs when they submitted the works as part of their contract. "We are revising our process and updating our artist guidelines to make clear the that artists must refrain from using AI art generation as part of their art creation process for developing D&D art," a post to D&D Beyond later read.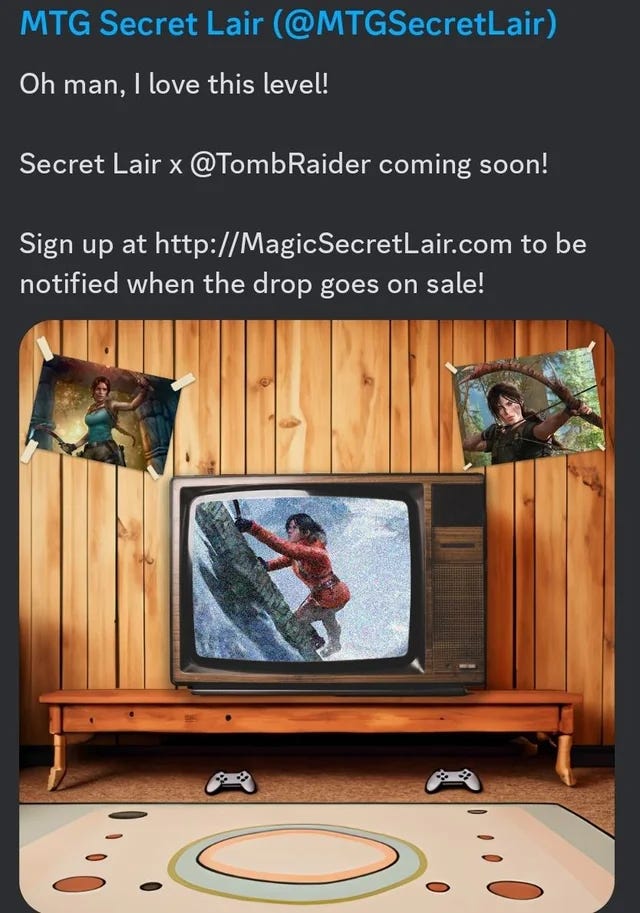 Dicebreaker reached out to Wizards of the Coast for comment, inquiring if the ad's use of AI artwork was intentional or a mistake but did not receive a reply prior to publication. Further, the company has yet to make these processes publicly available, leading players and fans to take their dedication to change and improvement on faith.
Resistance to an increased reliance on AI generative tools - LLMs, scripts such as ChatGPT (which can now teach board game rules), etc. - has increased in recent years as massive companies and leading tech industries push their adoption on a largely skeptical or undereducated public. The recently resolved Writers Guild of America strike carved out protection for writers, editors and other creatives who feared executives would outsource their work to unpaid AIs.
Freelance artists similarly worry that Wizards of the Coast will continue folding AI into their graphic design and advertisement, cutting out critical opportunities for skilled workers in an already precarious field. Even if this contentious technology never touches the front of an MTG card, corporate adoption by one of the biggest names in the tabletop game is auspicious. As one commenter on Reddit aptly put it: "It's a labor issue, not a 'what's on my toys' issue".