Magic: The Gathering rare and bizarre Chaos Orb set to sell for over $10,000
Card is remarkably unscathed.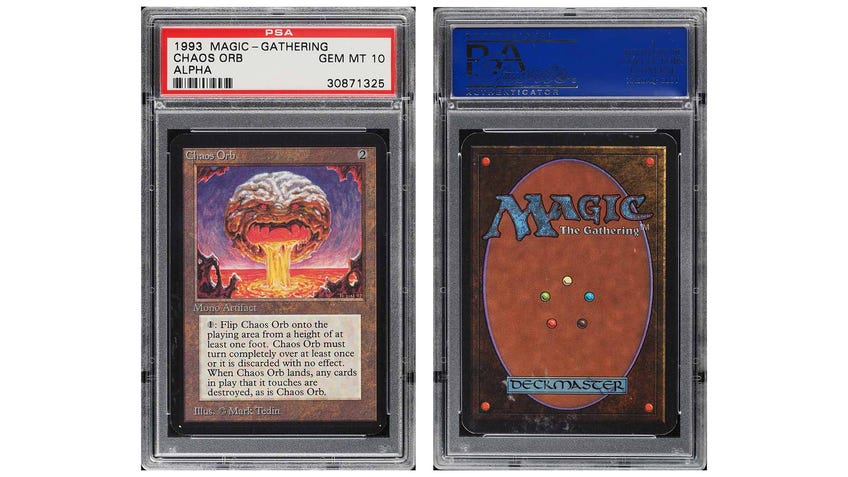 A rare and particularly unusual Magic: The Gathering card is set to be sold for over $10,000 (£8,000).
Part of the very first set released for the trading card game, the Alpha set, Chaos Orb is a two mana-cost card that quickly became part of the banned and restricted list for Magic: The Gathering. Released during Magic: The Gathering's 'wild' phase, Chaos Orb was then swiftly banned from all formats from 1994 onwards.
The reason for the Chaos Orb's illegality is the rather bizarre way it's played onto the table. Rather than simply placing the card on the table like normal, players using the Chaos Orb must drop the card from at least one foot above the table. Should the card successfully flip at least once before landing on the table, then any tokens the Chaos Orb touches are destroyed – including the Chaos Orb itself.
Wheels teaches you how to play Magic: The Gathering.
Perhaps the most notorious incident of the Chaos Orb being played is during the final match of a high-level tournament in which a player used the card. Rather than just dropping the card, the player ripped their Chaos Orb into pieces and rained them down over their opponent's field in an attempt to destroy as many of their tokens as possible. Despite the player's innovative use of the Chaos Orb, they were disqualified from the match because their deck had dropped under the required limit for the tournament.
The Chaos Orb is considered to be an especially valuable and rare Magic: The Gathering Card because – besides being part of the original Alpha set and listed as banned and restricted – finding copies that aren't somewhat damaged is difficult. Due to the way the card is played, by being dropped from a height, it is not unusual for a Chaos Orb card to feature chips, dents and other forms of damage.
Wheels challenges the world in Magic: The Gathering - Arena.
However, the Chaos Orb card included in an auction held by PWCC – a website that specialises in holding auctions for various valuable memorabilia and trading cards – is currently listed as being in PSA 10 Gem Mint condition: meaning that it does not have any noticeable damage. This is probably why the latest bid for the card is currently $10,500 (£8,300), as of the time this article is being written.
The Chaos Orb Magic: The Gathering card will remain on auction on the PWCC website until April 20th.