Magic: The Gathering pulls 'Death Corona' card from upcoming set Ikoria: Lair of Behemoths due to COVID-19
"Months ago, the world was a very different place."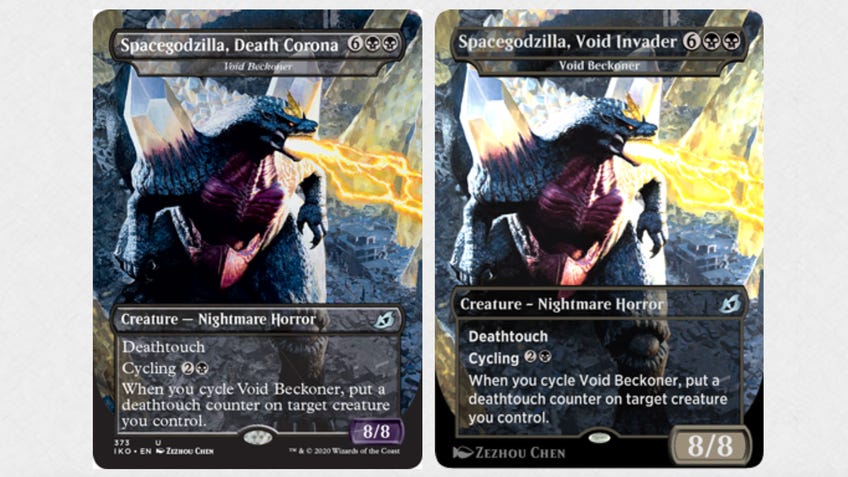 Magic: The Gathering maker Wizards of the Coast has announced it will take steps to pull a card from the trading card game's upcoming Ikoria: Lair of Behemoths set to avoid any negative association with the ongoing COVID-19 crisis.
The upcoming expansion, which is due to release on April 16th, features a creature card named Spacegodzilla, Death Corona. The name references Spacegodzilla's Corona Beam attack, first coined following the monster's debut appearance in 1994 movie Godzilla vs. Spacegodzilla.
Wizards of the Coast acknowledged on its blog that although the Ikoria set was finalised "months ago", the escalating worldwide coronavirus pandemic meant that "the word 'corona' has taken on a new meaning".
While Ikoria's first print run couldn't be corrected in time - meaning that Spacegodzilla, Death Corona will appear in the initial batch of the physical set - Wizards of the Coast said that it would be "taking steps to remove or change the card where possible".
This includes on Magic: The Gathering Arena and Magic Online, the digital board game versions of the collectible card game available on PC. In Magic: The Gathering Arena, the card will be renamed Spacegodzilla, Void Invader, while Magic Online will remove the card completely.
Wizards of the Coast confirmed that future reprints of Ikoria: Lair of Behemoths would similarly remove the card. Void Beckoner, the creature card on which Spacegodzilla is based, would not be affected by the steps to pull the card.
Spacegodzilla is one of 16 cards based on the Godzilla movie series that make an appearance in Ikoria's English-language set, alongside kaiju such as Mothra, Babygodzilla and the original king of monsters himself. The Japanese release of the expansion features a further three cards that draw from the Godzilla universe.
Wizards previously adjusted its restrictions around Ikoria's physical pre-release event in response to the global COVID-19 lockdown, allowing players to play the set at home without needing to attend an in-store event in person.
The publisher has also shifted a number of Magic: The Gathering competitive organised play events to account for the impact of coronavirus, cancelling some tournaments and delaying others.