Magic: The Gathering's animated Netflix show still lives - if barely
Hasbro CEO Chris Cocks gave a brief nod to the neglected project in a recent investors meeting.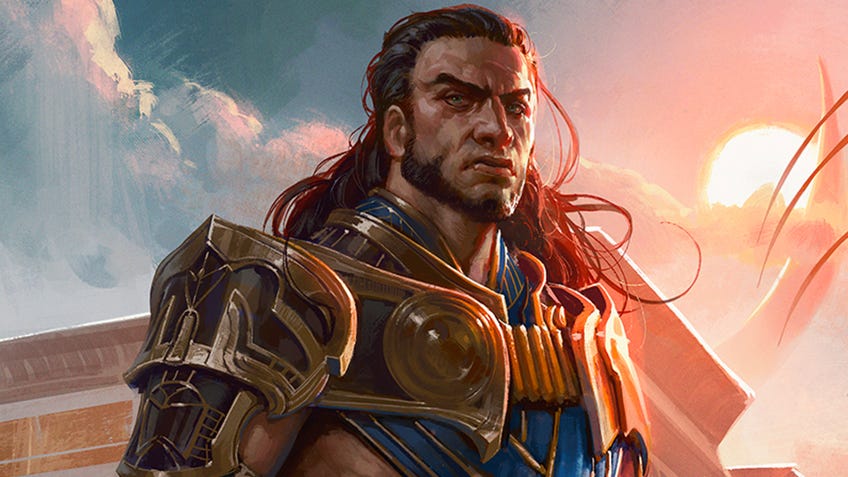 If you forgot that an animated Magic: The Gathering series featuring Superman actor Brandon Routh was in production for Netflix, that's because Wizards of the Coast has failed to mention it for two solid years. But a recent Hasbro investors meeting released the project from production limbo for the briefest mention.
Hasbro CEO Chris Cocks met with investors on October 26th to address the toy corporation's rather sagging quarterly performance, hanging laurels on Magic: The Gathering and Baldur's Gate 3 as future fiscal lifeboats. During his opening remarks, Cocks addressed Hasbro's impending sale of their eOne Film and TV division and stressed that the company was still committed to developing entertainment - the popular trading card game's animated adaptation was among the names mentioned.
"We have over 30 projects in development from blockbuster movies like the upcoming Transformers One with Paramount to an animated [Magic: The Gathering] series with Netflix to digital-first IP development like our new YouTube series, Oddpaws," Cocks told investors.
First announced in mid-2019, the as-yet unnamed project was being developed under the eyes of Anthony and Joe Russo, perhaps best known for directing Avengers: Endgame and several other films in the Marvel Cinematic universe. The Russo brothers and several members of their team left the show in August 2021 over creative differences, and Netflix installed executive producer Jeff Kline in their place with a team of writers who have previously worked on Star Wars: The Clone Wars, The Batman, Transformers, the Men in Black animated series and Jackie Chan Adventures.
Wizards of the Coast revealed days later that the new scripts would focus on planeswalker Gideon Jura, voiced by Routh, and that both the scripts and voice acting for the first season had already been completed. The CG-animated show would serve as onboarding media for new fans, similar to how Arcane introduced the world of League of Legends to many who had never touched the competitive video game. According to Deadline, Snowball Studio replaced the previously contracted Bardell Studios as chief animators.
The animated series was set to release alongside a Gideon Jura prequel novel in the second half of 2022, but both Netflix and Wizards of the Coast have been radio silent. American media companies such at HBO spent 2022 burying animated projects to save money on taxes, and Netflix has an established history of quietly shuffling in-development and new shows into the dustbin. Cock's mention doesn't do much beyond confirming that Magic: The Gathering's animated show still lives on the projected spreadsheets of Hasbro's financial analysts. Dicebreaker has reached out for more information.