MTG and Baldur's Gate 3 pull Hasbro's bacon out of the fryer as toy giant doubles down on tabletop brands
Hasbro will continue to rely on the "long term, multi-property strategy" of Universes Beyond.
Magic: The Gathering topped Hasbro's quarterly earnings charts, once again salvaging the toy giants' underwhelming performance. Mega-popular video game Baldur's Gate 3 joined the consistently reliable trading card game as biggest earners and, according to a recent investor's meeting, Hasbro wants both golden gooses to continue laying eggs.
Hasbro met with investors on October 26th to announce a disappointing third quarter in which both its consumer products (toys such as Play-Doh and action figures, plus mass market board games) and entertainment sectors reported lower-than-expected earnings. That's not to say they lost money - the lines just didn't go up as much as the company projected earlier this year.
Wizards of the Coast, publisher of MTG and Dungeons & Dragons, and the digital gaming segment increased sales by 40% from $303.5 million in 2022 to $423.6 million this year. Hasbro president Chris Cocks told investors that MTG's tentpole sets - especially The Lord of the Rings: Tales of Middle-earth - combined with the explosive success of Baldur's Gate 3 to lead the segment's strong performance.
Tabletop game revenue alone contributed $290.5 million, a marked increase from 2022's earnings of $246.3 million. Wilds of Eldraine and this summer's Commander Masters sets were both reported as successes in the eyes of Hasbro executives. MTG's contribution comprises a hefty chunk of Hasbro Gaming's overall $628 million in the quarter, which includes the trading card game along with Dungeons & Dragons and classic board games such as Monopoly, Twister and Operation.
MTG's continued success won't come as a surprise to those who have followed Hasbro's financial saga over the past few years. Cocks and Wizards of the Coast president Cythia Williams pegged the trading card game as the company's first "billion-dollar brand" as they adopt a commitment to collectibility and more Universes Beyond crossovers, which now include Fallout and - in 2025 - Marvel's colossal pop culture cache.
"Magic: The Gathering is delighting tens of millions of fans with new concepts like Universes Beyond which combine MAGIC with fan-favorite IP like Lord of the Rings and Dr. Who," Cocks said during the investors meeting. "Universes Beyond is a long term, multi-property strategy that is already delivering collector excitement and new player growth. Expect more exciting news and previews in the quarters to come."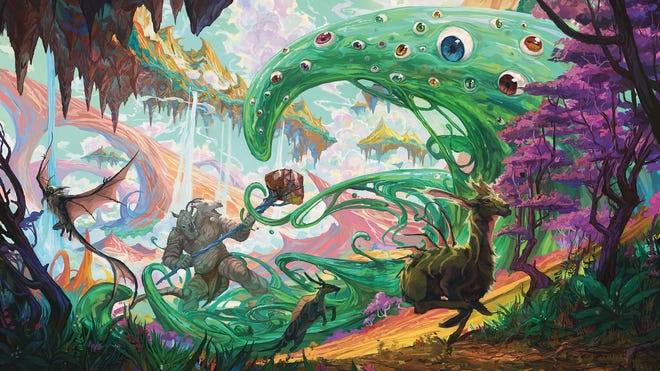 Fans' reaction to Baldur's Gate 3 has further convinced Hasbro to invest in D&D as a "digitally driven multimedia franchise". Even though it was delayed several times, Larian Studio's computer RPG has proven a cultural and financial blowout. Cocks cited longrunning video game franchises Grand Theft Auto and The Legends of Zelda in his report, perhaps signaling to investors that Hasbro intends to transform this massive developmental undertaking into a reproducible cash cow.
Hasbro blames the flaccid performance of its entertainment and physical toy segments on a combination of SAG-AFTRA and WGA's continued strike against the Alliance of Motion Picture & Television Producers and reduced inventory for both Hasbro and the retail stores further down the distribution pipeline. Cocks and Hasbro CFO Gina Goetter told investors that both of these disruptions will likely continue to mellow revenue growth in these segments heading into 2024.
What does that mean for players? Hasbro will likely continue to rely on a strategy that has propelled them out of similar slumps in the past: squeeze more blood from the D&D and MTG rocks. While not confirmed, the introduction and proliferation of Universes Beyond aligns conveniently with Hasbro's Blueprint 2.0 implementation - divesting in tertiary licenses and reinvesting the "core brands" that the company knows will consistently turn a profit.
Despite myriad setbacks throughout 2023, Dungeons & Dragons will have three new sourcebook releases in 2024, along with a planned virtual tabletop and a long tail of adventures, supplements and other releases. Magic: The Gathering's dizzying release calendar shows no signs of slowing anytime soon despite pronounced product fatigue from enfranchised players. The introduction of the Play Booster in early 2024, which replaces the two existing booster packs, may only serve to treat the symptoms of a growing apathy amongst MTG's community.
D&D and MTG's design teams have always maintained that their creative decisions were not overly affected by Hasbro's corporate interests, but a growing reliance on the two tabletop franchise continued revenue growth could eventually erode that position. Toys and board games aren't as recession-proof as booster packs and a video game that dominated social media, but neither are they pillars that can carry the company's growing investor obligation without further stressing the relationship between product and player.
Update: Hasbro's financial figures now correctly portray Magic: The Gathering's contribution to the total Q3 Hasbro Gaming segment.