A Wild West set, Modern Horizons 3 and Ravnica Remastered lead Magic: The Gathering's 2024 releases
A standalone Ravnica Clue crossover and a Haunted Mansion-themed set are also planned.
Magic: The Gathering has detailed its release calendar for 2024, announcing a remastered Ravnica set, Modern Horizons 3 and something players of the popular trading card game have been requesting for a hot minute: a wild west fantasy world.
Publisher Wizards of the Coast revealed MTG's upcoming sets during a Gen Con panel on Saturday, and nobody will be surprised that Modern Horizons 3 loomed large on the list - and currently slated for some time during 2024. This latest reprint-heavy set won't reinvent the proverbial wheel but will reportedly include some some modal dual-face cards and Planeswalkers.
Modern Horizons has polarised MTG players from the start. The collection of powerful and hard-to-find reprints ostensibly aimed to inject new cards into the Modern format while also providing a fun and unique draft environment. That mission has been consistently curdled by blistering booster pack prices, limited print runs further exacerbating the cost and availability problems and Modern players criticising the effect exorbitant chase mythics such as Ragavan and Urza's Saga wrought on what was supposed to be a stable format.
Every two years, MTG players start to think to themselves - or even say out loud to friends and on social meda - "Hm, it's about time we once again revisited Ravnica." Wizards heard your pleas and will deliver on them, after a fashion. Two new Ravnica-related releases will land next year, starting with a remastered set containing reprinted cards from every visit to the city-wide plane from 2005's Ravnica: City of Guilds to 2019's War of the Spark mega-event. Ravnica Remastered is currently planned to arrive early in 2024.
The home of the 12 dual-coloured members of the Living Guildpact will also be the setting of a weird standalone crossover - Ravnica: Clue Edition. Not quite MTG and not quite Clue, this title casts players as detectives solving a complex mystery at Ravnica's heart. The gameplay will reportedly lean on "Magic's strategic depth" and the Cluedo's whodunnit core interaction. Expect this self-contained tabletop game in the first part of 2024.
Murders at Karlov Manor, arriving around the same time as Ravnica: Clue Edition, sounds like an escape room-esque tabletop title featuring new and old faces from Magic's Multiverse attempting to solve a knotted mystery and escape Orhov matron Teysa Karlov's ancestral home. Another non-TCG experience, Murders at Karlov Manor sounds more like a boxed puzzle in the vein of Exit with a specific MTG spin.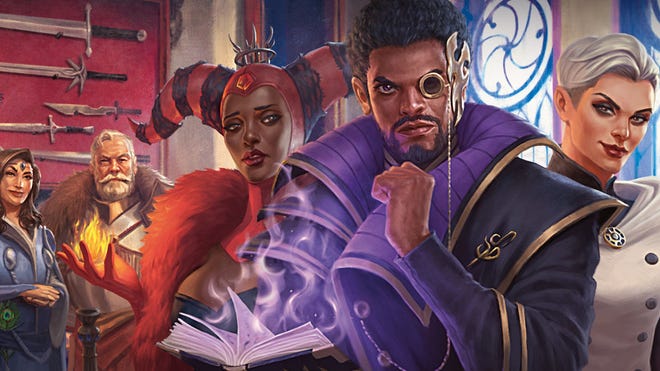 Not all of MTG's releases next year are odd crossovers with parent company Hasbro's other games. In fact, the Q2 set will be the wild west world that fans have dreamed about for years. Outlaws of Thunder Junction is an "action-packed, frontier fantasy that reimagines the western genre" through the lens of MTG's mechanics and house style.
We don't know much about why we're visiting this yeehaw-heavy plane, but some of the game's most notorious villains will apparently rear their head - perhaps in spurs and chaps? Promotional art shows a woman in a cowboy hat with wicked, long claw weapons, as well as a group silhouetted against a dusty mesa, cacti and the looming figure of a grinning foe weilding a pair of daggers. Also, Old Rutstein is here for some reason.
In the second half of 2024, Magic: The Gathering gets cuddly with Bloomburrow, a "cute and cosy new world" where humans don't exist at all and is instead populated by Redwall-style fantasy animals. The press release specifically mentions squirrels, frogs, rats and rabbits, which would go a long way to explain the mouse adventurer teased by Mark Rosewater at Pro Tour Barcelona last weekend. Bloomburrow will perform "an important quest" and the bold adventuring party undertaking it.
Rounding out the year will be Duskmourn: House of Horror, a set that takes place in a haunted mansion. Arriving just in time for spooky season, Duskmourn apparently derives inspiration from horror games, films and other media from the 1980s, or otherwise portraying the golden age of slasher films, Crononberg body horror and cosmic horror cinema. We know the least about this set out of everything announced, so expect more details as we get deeper into 2024.
Magic: The Gathering also announced two massive crossover releases that are a bit further afield. A line of Commander preconstructed decks will portray the irradiated world of the Fallout franchise, and the previously announced Final Fantasy Universes Beyond set has been slated for 2025.