Magic: The Gathering's next Secret Lair card drop will raise money for charity Extra Life
Features four foil cards with new family-themed artwork.
Magic: The Gathering is dropping another limited-edition Secret Lair card set next month, this time in aid of gaming charity Extra Life.
Secret Lair: Extra Life 2020 will include four new foil variants of cards featuring alternate artwork themed around family and children.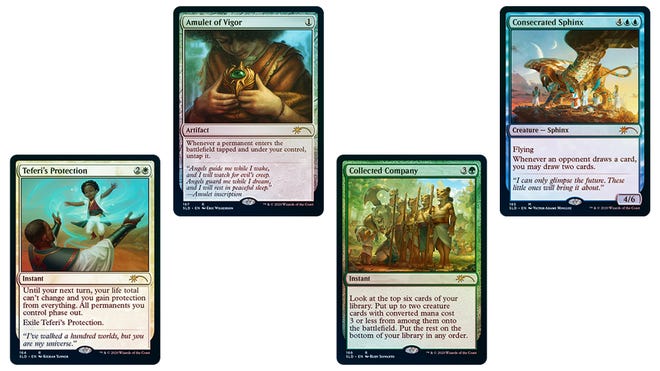 The four cards in the set will be Teferi's Protection, Amulet of Vigor, Collected Company and Consecrated Sphinx.
The set will be available to pre-order from 9am PT on November 6th to 9am PT November 9th, and will cost $60. Half of that money will go toward Extra Life, benefitting Seattle Children's Hospital, Wizards of the Coast said.
Alongside the card set, Wizards of the Coast announced play mats featuring the new artwork for each of the cards, with $16 of the mats' $22 price tag going to Extra Life. The playmats will be available for the same three-day window from accessories maker Ultra Pro.
The Magic: The Gathering maker also announced that it would auction 20 uncut sheets of MTG cards - including German Fifth Edition rares and lands through to mythic rare showcase cards from this year's Ikoria: Lair of Behemoths - on eBay, with all proceeds going toward Extra Life. The auctions will be held between October 29th and November 7th.