Metal Gear Solid: The Board Game sneaks into 2020
Snake it 'til you make it.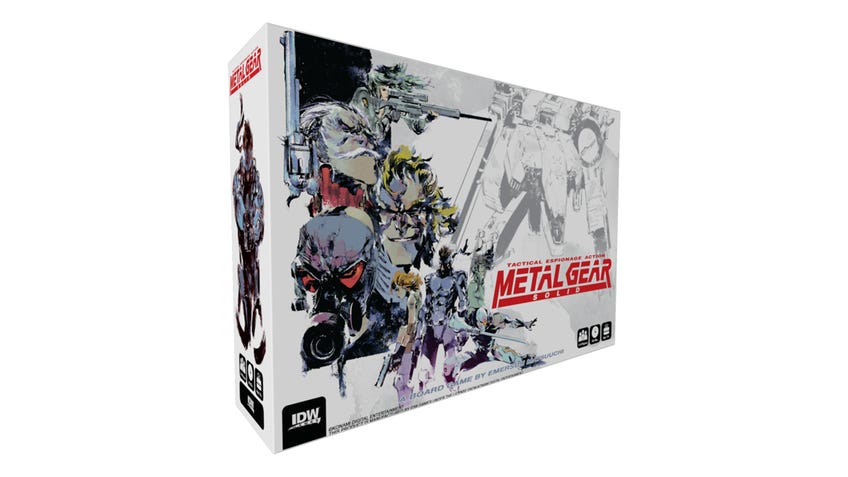 The long touted Metal Gear Solid: The Board Game - based on the iconic video game series - has been delayed.
Although Metal Gear Solid: The Board Game was slated to appear earlier this year, the release has now been pushed back to summer 2020.
The board game is being designed by Emerson Matsuuchi. His previous titles include sci-fi hidden movement game Specter Ops - which was actually inspired by the Metal Gear Solid games - and spice-trading game Century: Spice Road.
According to a statement released by the publisher, more time is needed to 'polish' the game.
"Ultimately, the amount of time it took to implement these changes just grew longer than expected and our window to ship the game on time closed," publisher IDW Games wrote in a statement.
"At that point, we were confronted with two options: create a list of changes that we could complete quickly in order to minimise the delay, or really dig in and make sure everything got polished to the fullest extent possible."
Metal Gear Solid: The Board Game is a fully co-operative stealth action board game for one to four players. It follows the story of the very first Metal Gear Solid video game. Players take on the roles of characters from the title, such as Solid Snake and Gray Fox the Cyborg Ninja.
Mainly, you complete campaign objectives while avoiding detection. Missions have a variety of different outcomes, and can be finished in a mixture of ways.
Just like the video game series, you can choose to stealth through using technical prowess, carry out sneaky assassinations or just gun and run. In addition, you'll be facing an array of dramatic bosses.
Series fans will be pleased to learn that the upcoming board game will now feature a very special miniature for Day One backers: a cardboard box.
The humble - yet infamous - box appears in every instalment of the Metal Gear Solid video game series. Metal Gear Solid protagonists Solid Snake, Raiden and Naked Snake have used it as a means of infiltration over the years. Notable moments in-game include disguising yourself as cargo, and also evading enemy detection in dangerous environs.
As part of the newly-announced release date, pre-orders of the game are now available on Backerkit.
Metal Gear Solid: The Board Game joins the recently-announced Sniper Elite the Board Game as part of a wave of upcoming board games based on popular video game series.