Testicle-popping video game Sniper Elite takes aim at a board game spin-off
Ballsy move.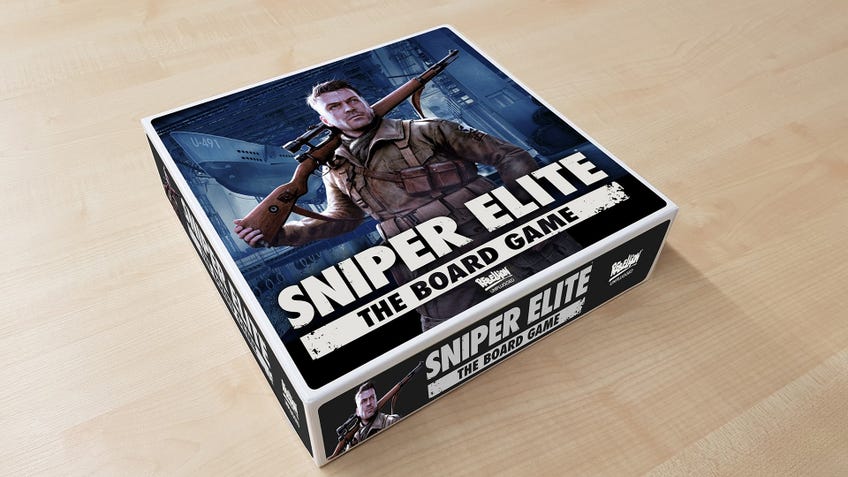 As part of publisher Rebellion's recently announced tabletop venture Rebellion Unplugged, video game Sniper Elite is getting the board game treatment.
A hugely popular World War II-themed tactical shooter series, Sniper Elite is known for its gruesome slow-motion shots of testicles exploding and also provides ample opportunities to shoot Nazis in the face.
"I wanted to capture that tension and strategy," new studio divison director - and former board games creative lead at Cryptid, Judge Dredd: Cursed Earth and High Society publisher Osprey Games - Duncan Molloy told Dicebreaker. "There also haven't been tabletop games quite like Sniper Elite".
For two to four players, Sniper Elite the Board Game will involve planning routes to objectives, stealthing through missions and somehow, gunning your way through climatic explosions. Molloy describes it as a World War II themed hidden movemement game.
Unlike the video games, players can control German soldiers, who have to strike a balance between achieving their own objectives and hunting down the snipers.
Experienced designer David Thompson has been tasked with adapting the video game for tabletop. His previous titles include abstract strategy game War Chest and this year's World War II deckbuilder Undaunted: Normandy.
Sniper Elite the Board Game will be unveiled at PAX Unplugged this December, and is landing on Kickstarter early next year.
According to publisher Rebellion Unplugged, new physical games and collectibles based on its numerous IPs will be the main focus.
These include comic book universe 2000 AD - the home of Judge Dredd - and popular video game series Zombie Army and Evil Genius 2.
"I want to create the right game for each Rebellion license," adds Molloy. "That might mean publishing a wide range of different types of tabletop game, but each will be the right fit for fans of that franchise."
Rebellion Unplugged has hinted that it already has other games in the pipeline for 2020 and beyond.
"I think fans are more discerning now than they have been. It's not enough to slap a logo on a card game and call it a day," concludes Molloy. "The adaptations that succeed will be the ones that have experience of both sides of the relationship - love of the property and love of hobby board games. You need passion, but also craft."
One of the latest in a long line of board games to be adapted from video games, Sniper Elite joins the likes of Dark Souls, Bloodborne and Doom in getting the cardboard treatment.