New Metallica Monopoly gives fans a chance to hoard Metalli-bucks and play as a toilet
Master of property pulling their pursestrings.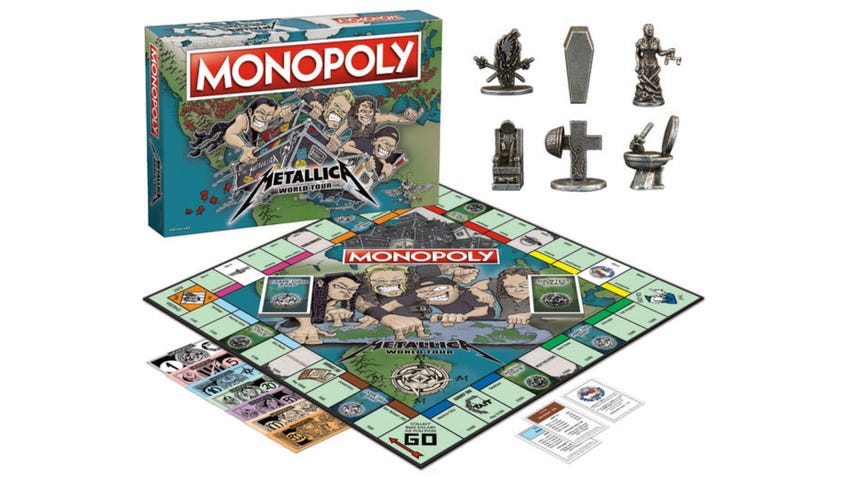 A second Metallica-themed Monopoly game from ubiquitous tabletop publisher Hasbro invites die-hard classic metal fans (or at least curious dabblers) to join the band on a world tour board game experience.
Monopoly: Metallica World Tour Edition highlights life on the road, specifically the 2013 tour when the American heavy metal band became the first to perform in all seven continents during the same circuit. The properties are thus appropriate cities around the world where Metallica stopped, and players must "collect" these locations in classic Monopoly fashion.
The included money still comes in colourful shades, but they're now called Metalli-bucks, which must be spent to construct stadiums and arenas on the tour location to increase their value. The utility and other non-property spaces sport further Metallica references, such as "Carpe Diem" or "Shortest Straw", and award players guitar picks or backstage passes when accessed.
Even the tokens have received the theming treatment. Monopoly Metallica won't contain a cheerful Scottie dog or loose shoe. Instead the box includes Lady Justice, Death Magnetic coffin, Ride the Lightning electric chair, Master of Puppets cross, Metal Up Your Ass toilet and the Scary Guy, according to the official listing on Metallica's store page.
Monopoly: Metallica World Tour Edition is the second time the band has loaned its likeness for an edition of the real estate empire game. Metallica Collector's Edition Monopoly, published by USAopoly, released in 2011 and covered notable events and places in the band's 39-year history.