Neopets Battledome brings the digital pets back to trading card games after 17 years
The Aughts are back, cardboard style.
Neopets are having a moment in 2023. Everyone's favourite website, circa 2005, has invested a fair amount of resources and energy on revitalising the virtual pet world just in time for its 25th anniversary. A partnership with Upper Deck has created a new trading card game called Neopets Battledome, due out next year.
Everything we currently know about the upcoming physical TCG comes from a short announcement video on Upper Deck's YouTube channel, plus a fairly thin press release from the publisher. Battledome purports itself to be a "fast paced, two-player" entry that uses its own dice combat system - exact details on this system weren't made available.
Neopet cards boast three stats - attack, defence and agility - which can be affected by the colour of the Neopet. Colour is a malleable trait thanks to paintbrush cards, which artificially modify a certain Neopet's hue and help it gain bonuses from other cards. The same pet can apparently be printed in a number of different colours, as the promotional cards show Shoyru in classic red and a modified rainbow - both of which have slightly varied statistics on their respective cards.
The initial release will contain 20 different Neopets across hundreds of cards, portrayed through more than 250 new pieces of art created for Battledome's initial release. Well-known artists such as Anthony Conley, Krista Staggs and Shamine Athena King were tapped as illustrators.
Other kinds of cards include Codestones, which seem to increase different stats, and faeries that act like battlefield-wide buffs for all pets of a certain colour. They can also help players fetch paintbrushes and other cards from their deck.
For the disgustingly young or unaware, Neopets was an online phenomenon that allowed people to purchase, trade and care for virtual pets on an Adobe Flash-based web browser platform (RIP, Flash). Eventually purchased and then sold by Nickelodeon and parent company Viacom to Jumpstart, an independent team of fans convinced former owner Jumpstart to divest control to their newly formed company World of Neopia, Inc. earlier this year.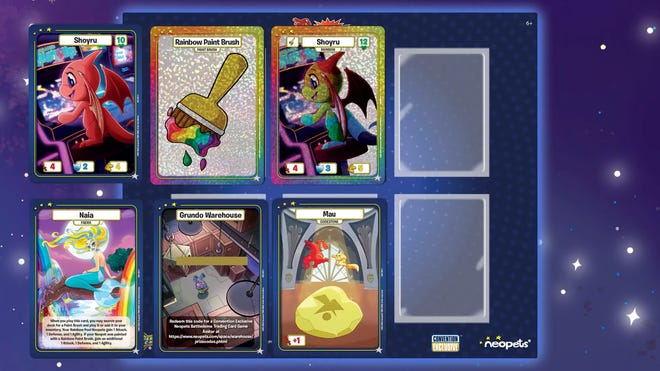 After a failed NFT run to raise capital (phew), the team has turned to community-based initiatives and new games to renew interest in a particularly nostalgic brand from the same era as Club Penguin, MySpace and disreputable music torrenting. As Kotaku writes, the upcoming mobile game World of Neopets will give players new and old a fresh door into the Neopets universe. Battledome wants to do the same via collectible cards.
This is the second time Neopets has appeared on a physical TCG. The Neopets Trading Card Game launched in 2003 and was published by Wizards of the Coast. Designed for a younger demographic, this title saw two opponents pitting their pets in stat-based contests as a win condition. It was discontinued in 2006.
Neopets Battledome will be shown at Comic Con and Gen Con ahead of a full release sometime in 2024. Dicebreaker has reached out for more information and will update this story accordingly.