Night Market is a Eurogame that wants to celebrate the food stalls of Taiwan
Hungry, hungry meeples.
Compete for the prize of hottest gua bao slinger in Night Market, a game of managing the resources and customers of your Taiwanese food stall coming to Kickstarter this spring.
Publisher Talon Strikes Studios (Vinyl, Camp Pinetop) describes Night Market in a press release as a resource-management and worker-placement game for two to four players with the goal of operating not just a successful stall in a new Taipei night market, but the preeminent destination for hungry shoppers and pedestrians.
"Taipei is known the world over for its street food, which draws locals, connoisseurs from all over Taiwan [...] to its famous Night Markets such as Raohe, Shilin or the emerging Tamsui Night Market in search of delicacies," the release said. Those delicacies include iconic favorites such as gua bao (Taiwanese burger) and chodofu (stinky tofu), along with bubble tea and steamed buns - popular treats any player will recognise.
Operating a successful food stall requires shopping for the right ingredients before the market opens. A limited window of time means rivals will rush to scoop up rare and expensive ingredients, or they might instead invest in loyal repeat customers for a more gradual but reliable income. Whatever route you choose, the winner will be the stall with the highest reputation in the market once the last night wraps up.
The inspiration for Night Market comes from designer Adam Zwain's life in Taiwan since 2010. He visited the major night markets in each city to immerse himself in a "microcosm" of regional culture but didn't understand until later just how ubiquitous the markets were.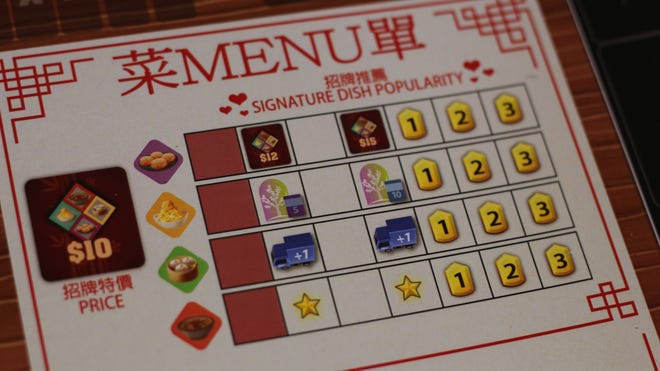 "Every neighborhood has one. You could walk through a seemingly quiet alleyway and stumble across an absolute gem of a night market that features the city's best beef noodles," Zwain says on the game's website. "This is what I wanted to capture in the design of this game: that the food of any small night market can easily compete with that of the major ones."
With cultural and sensitivity consultation from Maja Lee and Smoox Chen, Night Market positions itself as a snapshot of the flavours, sights and bustling energy of walking through a crowded street of stalls. A Kickstarter campaign with more details and artwork is planned for March 9th.