The Mandalorian-inspired solo RPG Notorious explores the edges of a war-torn galaxy in Outsiders expansion
Once more into a life of scum and villainy.
Solo tabletop RPG Notorious has announced an expansion that will move away from the galactic centre of its Star Wars-inspired world to explore the battle-scarred fringes and those who live there.
Outsiders is a fully-fledged expansion to one of 2022's best indie titles and will launch a Kickstarter campaign on October 10th to create a physical and digital version of that next chapter. The core gameplay loop remains the same, but creator Jason Price is using this opportunity to expand the scope of the world and spotlight a more desperate class of outlaws pressed into that life by the massive pressures of massive-scale conflict.
"I really wanted this game to focus on how the people and planets at the edge of the galaxy, away from prying eyes and the intergalactic war, may be exploited by opportunistic gangsters, corporations and pirates," Price said in a press release. "It includes themes of protest, uprising and environmental destruction alongside the signature bounty hunting sci-fi tropes."
Like in Notorious, players in Outsiders will create a bounty hunter who makes a living by tracking down and apprehending notorious (ahem) criminals. Doing so means scouting the planet, interacting with locals and gathering information about the target. The job is invariably complicated by the vagaries of life when the hegemonic authority deems you transgressive - people will do much to keep themselves and those they love safe.
Outsiders broadens the player-character field with six new Nomads - the Rookie, Duo, Beastmaster, Veteran, Tech and Deserter. There are also six new planets and factions each that detail the intricate, tenuous web of influence gripping the far-flung reaches of the galaxy.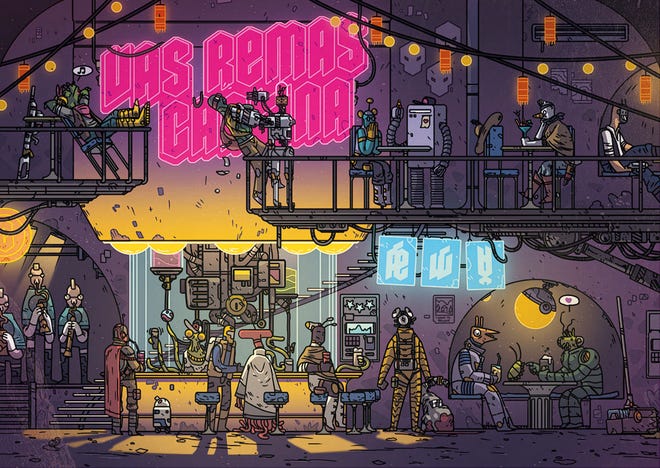 Those new to this solo tabletop RPG can jump right in, but both Outsiders and the original Notorious can be combined in Trilogy mode. Follow the trevails of a single Nomad across three epic acts and an emergent story far more potent than any one contracted target.
The Kickstarter campaign for Outsiders will run from October 10th through October 24th and will be funding both digital and physical copies. Price, who also created Last Sentinels, designed and wrote Outsiders, while Torben Bökemeyer provided the illustrations. Fellow solo RPG designer Jack Harrison (Artefact, Bucket of Bolts, Koriko) handled layout, and Will Jobst of TORQ and This Discord Has Ghosts in It fame contributed as editor.