Obojima: Tales from the Tall Grass brings the whimsy and wonder of Zelda, Ghibli and Adventure Time to D&D 5E
Ooo!
A new campaign setting for D&D 5E looks to transport players to a colourful fantasy world inspired by The Legend of Zelda, Studio Ghibli movies and TV show Adventure Time.
Obojima: Tales from the Tall Grass is said to take direct inspiration from the worlds seen in Zelda video games such as Breath of the Wild and this year's Tears of the Kingdom, as well as Ghibli films like Spirited Away and Princess Mononoke, and the whimsical Land of Ooo home to Adventure Time's Finn and Jake.
The 150-plus-page sourcebook will provide details on the setting's fantastical inhabitants - including the likes of mysterious Rubble Golems, strange stone giants said to be the spirits of those killed during building collapses, and Sheep Dragons, a docile fluffy mixture of dog, dragon and livestock.
Also included in the book will be information on locations across the land, as well as the magical items, spells - from the flame-spewing Ember Belly to the ability to contain enemies in a Bubble Prison - and other discoveries to be found during players' adventures. Obojima's tome will also include various new options for players' characters, along with details on the setting's combination of exploration, item-brewing and discovery.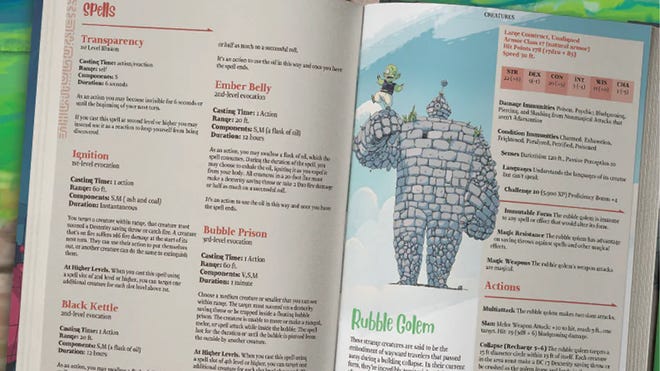 Obojima: Tales from the Tall Grass will be published by 1985 Games, the maker of roleplaying accessories such as dice, terrain and miniatures. The upcoming RPG will launch a Kickstarter 'soon', with early playtest material released ahead of the crowdfunding campaign via its sign-up page.