Ghibli-inspired Our Traveling Home is a tabletop RPG about finding family and love
My Neighbour Toto-roll.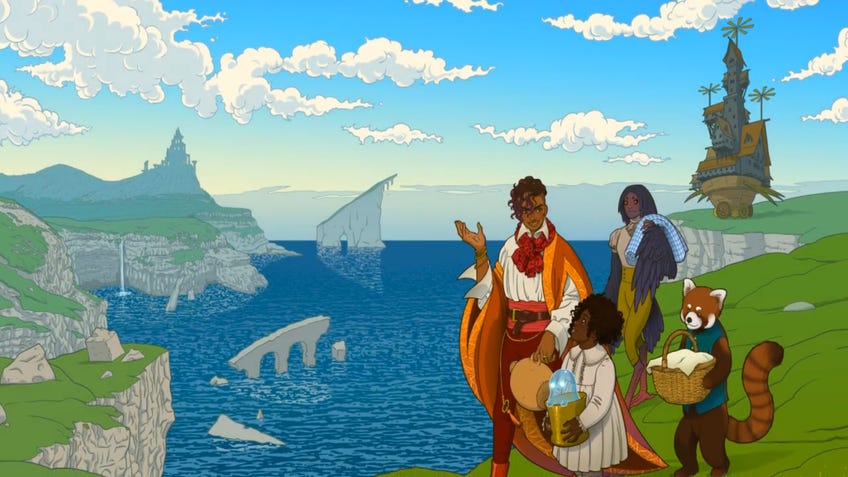 Japanese animation giant Studio Ghibli inspires artists and creators of all stripes, including the newest upcoming tabletop RPG from designer Ash Kreider of Peach Pants Press. Our Traveling Home takes thematic and emotional cues from films such as Howl's Moving Castle to tell queer love stories about discovering a place to truly belong.
Kreider - who previously worked on Powered by the Apocalypse war RPG The Watch and Polaris hack Thou Art But a Warrior - said their latest title allows players to tell stories about a "collection of oddballs and misfits trying to make their new chosen family work in the face of opposition from the Outside World that is trying to tear them apart".
"My daughter is 8, and of an age that I've been slowly introducing her to my favorite (age-appropriate) movies. Last summer as we were watching Howl's Moving Castle together, I realized that it's actually a trans love story! Both Howl and Sophie struggle with strange and sometimes horrifying bodily transformations, and they fall in love because able to see the other as they want to be seen and not as they appear," they said.
Kreider said they were only a few months into their transition at the time and was "still having a lot of angst about it". Designing the RPG became a creative outlet for channeling all of those emotions and thoughts, and two weeks later they had the first draft.
Our Traveling Home is designed to provide tense action and emotional strain for four to five players that ultimately ends happily without undercutting the drama along the way. A session's content will include both the fanciful, otherworldly magic and endearing interpersonal connection that are hallmarks of Ghibli films. Players will use prompts and open-ended questions to guide the scene and decisions their characters make along their journey.
In lieu of classes, players will choose from among five playbooks that describe something more akin to archetypes. Each also comes with a pre-existing tie to another playbook, though the nature of that bond isn't always friendly - or healthy.
The Wizard, for example, traded a shard of their humanity for a greater power but now keenly feels the ache of that missing piece. What they lack and how their traded power manifests is up to the player. Someone who plays The Child - an archetype focused on emotional labour and seemingly out of their depth at all times - apprentices to the Wizard. What secrets do this relationship make them privy to?
The playbooks further describe specific moments that each character strives to achieve during a campaign, highlighting their personality and further deepening bonds with other members of the found family. Such themes are becoming more popualar in indie tabletop RPGs, and Kreider points to a few titles that helped flesh out their vision.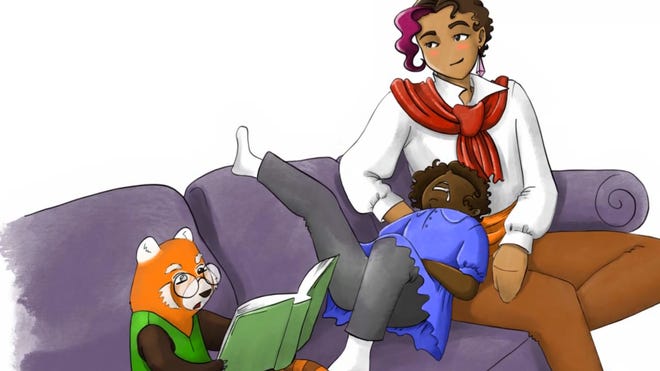 "The closest would be Stewpot, by Takuma Okada - a game about fantasy adventurers who retire to start a tavern. Our Traveling Home started as a hack of Stewpot, although I did drift it quite a bit. (For anyone into wholesome fantasy content, I can't say enough good things about Stewpot!) I also consider it to be spiritually influenced by Avery Alder's Dream Askew and Jason Morningstar's Space Post."
The RPG will be illustrated by Claudia Cangini, whose work can be found in War Birds, Flotsam and Fate Accelerated, among others.
Kreider stresses in the description that Our Traveling Home expressly centres queer stories and is designed to support protagonists beyond a strict gender binary, not bigotry and discrimination. "There can be no queer liberation without racial justice or justice for people with other marginalized identities such as disabled people or neurodivergent people," they write. "If you are committed to hatred of a group or multiple groups based on an inherent aspect of their identity, then this game is not for you."
The Kickstarter campaign for Our Traveling Home, which runs through March 10th, will fund the printing and assembly of the physical edition, as Kreider said they have previously completed the design and writing. Shipping for domestic and international orders is expected to begin in July of this year, and digital PDF copies will also be available.
Edit: This article has been updated to include comments from deisnger Ash Kreider.