Dystopian tabletop RPG Paranoia's video game adaptation has landed on PC
Stay alert! Trust no one! Keep your laser handy!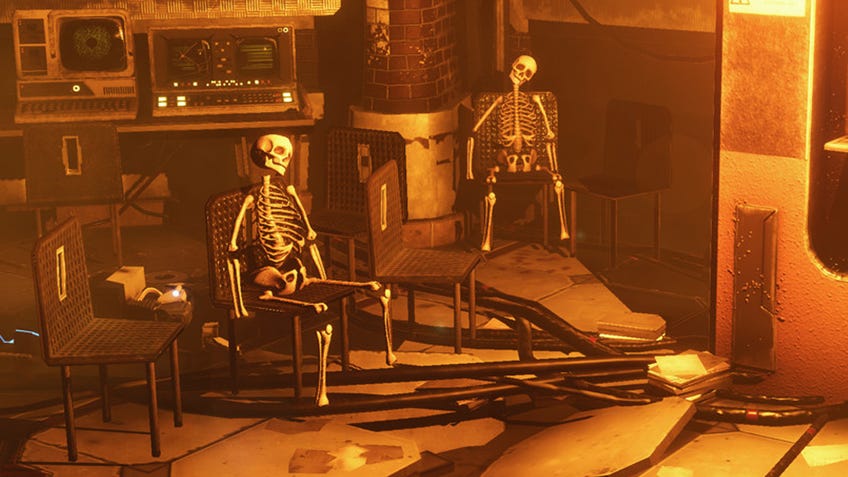 Paranoia: Happiness is Mandatory, the video game adaptation of cult dystopian sci-fi tabletop RPG Paranoia, is now available on PC.
The darkly comic Paranoia game is well known for its backstabbing hi-jinx, as well as unhinged robot overlord Friend Computer.
Created in 1984 (how apt) and inspired by the works of George Orwell, Kafka and Aldous Huxley, pen-and-paper RPG Paranoia is set in a future city run by the aforementioned malevolent AI. The original Paranoia RPG has since seen multiple re-releases and supplements over the years, while a reboot was successfully Kickstarted in 2018.
Like in the tabletop game, Paranoia: Happiness is Mandatory sees you all playing Troubleshooters - vat-born people packing five clone back-ups, that are tasked with fixing problems in Alpha Complex by Friend Computer.
An in-game UI indicates your treason level, which increases when you commit treasonous acts, such as stepping into the wrong coloured area or asking too many stupid questions. When your treason gets too high, you are hunted down and killed.
The first mission in the game reportedly involves going down to a sub-basement to find a broken-down bot, which for reasons unknown, can now feel fear.
Mechanically speaking, you can hack computers, shoot lasers and interrogate your fellow cloned - among other things.
Like the original RPG: mutants abound. Everyone not only has a strange human super power, but also belongs to a secret society.
This is where the infamous Paranoia deception comes in, as you can betray your team mates to better ascend the ranks. Conversely, even non-player characters can report you to Friend Computer.
Paranoia: Happiness is Mandatory is available to buy currently on PC at the Epic Games Store from £27.79 ($36.62), and is touted for release on Steam and consoles in 2020.