The Pokémon Trading Card Game is a perfect evolution of the video games
It's super effective.
Pokémon Sword and Shield have been a massive success for the Pokémon series of video games, bounding ahead in sales for the Nintendo Switch since their release last year. Sword and Shield boast a much more open-world structure than previous Pokémon video games, allowing you a lot more freedom and a chance to truly play the games to your own beat.
If you're wondering what to do next, lost in a sea of Pokémon games and ideas, the Pokémon TCG may just be the right step to take. With the freedom to build a team your way and compete to be a Pokémon master just like in the video games, you should feel welcome in a whole new Pokémon world.
The Pokémon Trading Card Game boasts a lot more freedom than you would naturally assume a card game does. You can put together any combination of cards to suit any type of play style. There's even a concept similar to the powerful Z-Moves featured in the Sun and Moon video games; EX and GX cards push the boundaries of play, just like Z-Moves do, by giving you a stronger version of your favourite Pokémon. The TCG also recently expanded with VMAX cards, bringing Sword and Shield's super-sized Dynamax and Gigantamax Pokémon to the table.
If you enjoy creating a team around your favourite Pokémon and Pokémon types, there are more than enough options to create a deck that suits your playstyle and preferred Pokémon, even those that aren't as well-known or popular. (Here's looking at you, Pikachu.)
Everything from the environment you're playing in to the trainers who stand by your side is entirely your choice.
I started playing Pokémon TCG after wanting to show a little more love to my personal favourite psychic-type, Gardevoir. With a little research, I found out that it's been such a successful card it even graced the championships in a whole psychic-fuelled deck.
The options in the Pokémon TCG are broad; there are so many selections that you'll be able to create a team (or deck) that represents you as a player. Unlike the video games, the card game boasts fully-customisable decks, allowing you a choice of item cards, trainer cards, stadium cards and Pokémon cards - everything from the environment you're playing in to the trainers who stand by your side is entirely your choice.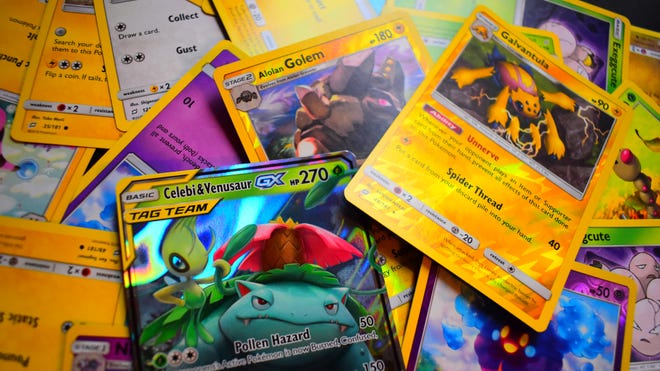 The trading card game also offers something for those of us who are Pokédex fillers: a huge amount of catching 'em all to do. With thousands of Pokémon cards to collect, there's endless room to expand your knowledge.
Legendaries such as Palkia and Dialga who were left out of the Galar Pokédex are still within reach in the TCG.
That includes the Pokémon that were left behind in the newest additions to the video game series, which are ready and welcome to join your team within the TCG. Legendaries such as Palkia and Dialga who were left out of the Galar Pokédex are still within reach in the TCG, featured together alongside Arceus on a Tag Team card - cards that, like the video games, allow you to have two or more active Pokémon out at once.
The trading card game even has something for people who are fans of beauty contests, rather than battling. The Radiant Collection of cards is designed to show off the most beautiful Pokémon and are the pride of many fans' collections. That's not to mention the number of beautiful full-art, shiny and holographic cards available.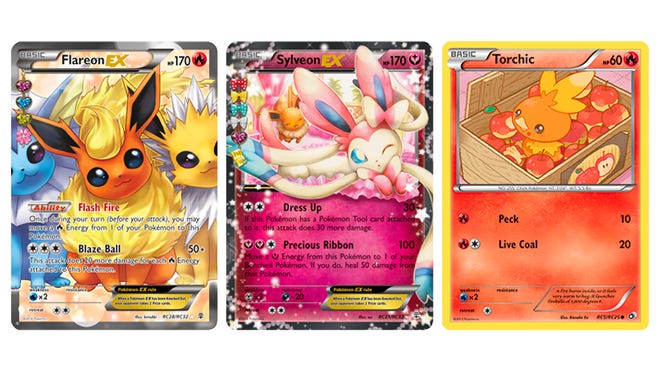 Conquered all the gyms and earned the title of Pokémon champion? There's a new challenge awaiting you in the Pokémon TCG. Get out there and start your name as a trading card trainer by joining a local league. There are hundreds of leagues available across the world - gatherings of local people battling it out to get enough points to move on to the next stage. If you become masterful enough to conquer your local scene, there are regionals and eventually the worldwide championships.
If you were satisfied with the random trainer battles in the video games and the chance they gave you to hone your skills, the potential with TCG is significantly larger: a whole worldwide community of players accessible with ease, be it playing in person at events and leagues or matches on Pokémon TCG Online. With competitive TCG, it's not just about becoming a champion of the Galgar region - it's about being a champion of the world.
Whether you're a fan of Sword and Shield or still prefer to stick with the original 151, the Pokémon Trading Card Game gives you the chance to expand your passion for the series and love for pocket monsters old and new.