Quests of Yore, the tabletop RPG from Pixar movie Onward, is now a real game
Be your-elf.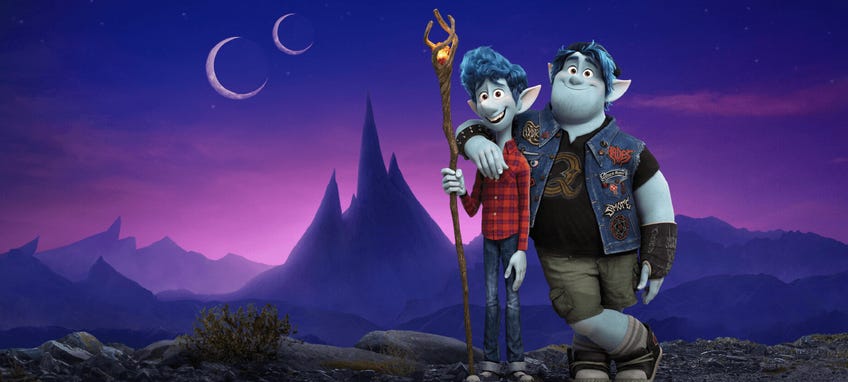 Latest Pixar film Onward is getting a tabletop RPG adaptation titled Quests of Yore: Barley's Edition.
Released in cinemas earlier this month, Onward follows two elf brothers voiced by Chris Pratt and Tom Holland on a journey to bring back their late father using magic.
Set in a modern suburban fantasy world, Quests of Yore appears in the film as a tabletop roleplaying game that brother Barley plays. The pair use spells learned from it as part of their adventure.
The movie's story was seemingly inspired by director Dan Scanlon's own experience of playing roleplaying games as a kid, and features familiar elements of tabletop RPGs such as Dungeons & Dragons - one of the best tabletop roleplaying games ever made - including mystical items, treacherous lands and a tavern run by a manticore.
It's time to go on a quest! @TheOpGames will be releasing Pixar's first-ever role-playing game based on Pixar's film, 'Onward'. Quests of Yore: Barley's Edition will be available Fall 2020. https://t.co/JRzdeggzsa #PixarOnward #RPG pic.twitter.com/tLUujHtGpQ

— Pixar Post (@ThePixarPost) March 12, 2020
A collaboration between publisher USAopoly - previous titles of which include party board game Telestrations and movie board game Harry Potter: Hogwarts Battle - and Disney Pixar, Quest of Yore: Barley's Edition sees the players getting together to form a fellowship, before heading out on a quest.
One of the players is the quest master, who crafts a world for the other players to explore. As part of the game, players will help out some satyrs and work together to uncover a mystery. As well as your cloven-hoofed friends, there will also be plenty of elves, cyclopes, goblins and dragons to meet.
Quest of Yore: Barley's Edition will feature a player's guide, over 150 spells, power and item cards, a quest master screen, six miniatures, and three sets of polyhedral dice, plus a raft of tokens. Doodles and notes written by fictional elf brothers Ian and Barley Lightfoot appear in the book.
For ages eight and upwards, it looks set to be an accessible storytelling RPG for younger players.
Artwork will be provided by two Pixar artists, Louise Smythe and Austin Madison, who have previously worked on films Toy Story 4 and Brave respectively.
Upcoming tabletop RPG Quests of Yore: Barley's Edition will hit stores this autumn and retail for $49.99 (£40).