RuneScape Kingdoms RPG will use a new system that "captures the unique magic" of classic MMO
Pre-order now for free armour trimming - totally legit.
The adaptation of decades-old MMORPG RuneScape, first announced last year, has revealed some new information about its upcoming tabletop RPG rulebook, which will bring the world of Gielinor from PC screens to the weekly roleplay meetup.
RuneScape Kingdoms: The Roleplaying Games is one of two titles currently cooking away in Steamforged Games design workshop. The UK-based studio that has built a reputation adapting well-known video games into analogue versions has teamed with RuneScape owner Jagex on both a board game and a tabletop RPG book.
While Dicebreaker previously explored RuneScape Kingdoms: Shadow of Elvarg in detail last year, the RPG has remained an open question since the pair of projects was announced in January of 2022. Now, a press release detailing open pre-orders for both games allowed the drip feed of information to squeeze out a few new morsels.
Steamforged Games, which is currently developing a massive Elden Ring board game and previous produced the somewhat notorious Dark Souls RPG, said the RuneScape Kingdoms RPG core rulebook will contain "everything a prospective 'noob' needs to get started in Gielinor" and will be available to pre-order sometime later this month, alongside the board game.
The RPG did not take the crowdfunding route, unlike Shadows of Elvarg - the latter managed to raise £875,000 on Kickstarter last year. Players can expect a "fresh-but-faithful" take on the MMO that first released way back in 2001 and has continued kicking thanks to a sequel, a full remaster, mobile versions and a healthy dollop of nostalgia.
Characters and questlines from the original game will crop up in the tabletop version of Gielinor, and it will reportedly employ a "bespoke" mechanical engine built on top of three six-sided dice that players will use to tackle monsters, challenges and scammers lurking outside of Lumbridge. Steamforged claimed this unnamed system was designed "to be both accessible and elegant" and should "captures the unique magic of the RuneScape source material."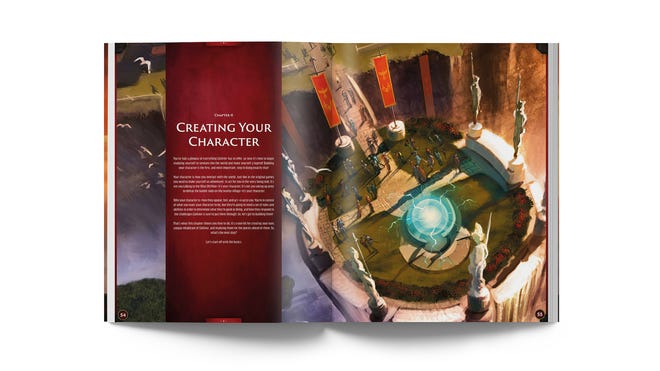 Game masters will find a detailed guide to RuneScape's pulp fantasy world alongside tables and tools for running whatever an "authentic RuneScape" campaign might be to your group of players - hopefully it isn't wrecking the server's economy by duping items for three-and-a-half hours. Character creation, systems for magic, prayers, crafting and skills and a full bestiary of well-known monsters and bosses can be found in the core rulebook.
"The RuneScape Kingdoms project has been particularly exciting for our team, as we've worked extremely closely with Jagex. It's been a real passion project for us to bring this very special world to the tabletop in two different and equally immersive ways," said Mat hart, co-founder and creative director at Steamforged Games.
More information about RuneScape Kingdoms RPG can be found on Steamforged Games' website. The relative silence and lack of crowdfunding campaign doesn't necessarily mean that it will follow in the disastrous tracks of the Dark Souls' adaptation, but the lack of promotion compared to its board game counterpart is remarkable. Steamforged cut one-third of its employees in a major restructure earlier this year, but it's not clear if the layoffs will affect development on either RuneScape Kingdoms title.