Do coffee and puzzles make a balanced breakfast? The Conundrumug thinks so.
Bean-flavored brain teasers.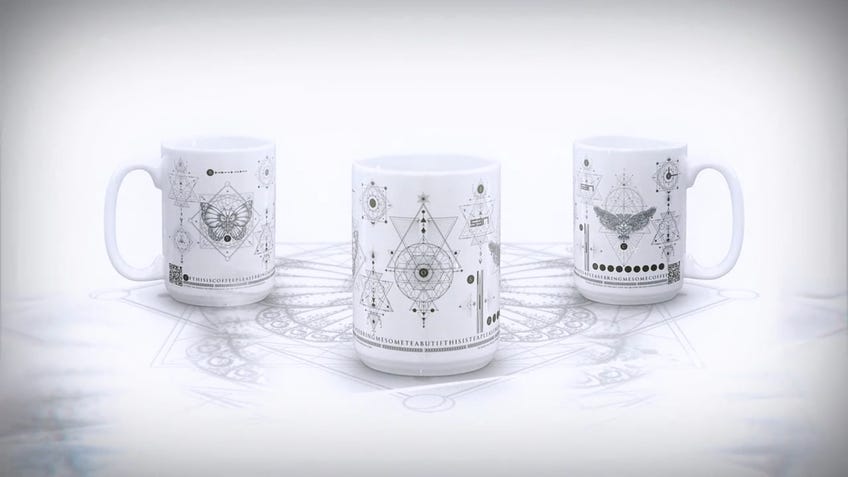 Start the day with a hot cuppa and a little mental stimulation with the Conundrumug, a cup festooned with a series of puzzles printed on the side.
Created by Rain Games, a company that specializes in interactive and multimedia games, the Conundrumug is in every way a standard coffee cup. Ceramic and able to hold 15 oz. (444 mL) of coffee, milk or whatever else pulls one out of bed to face another day, it's design is bog standard. The same cannot be said for the exterior decorations.
Several intricate designs provide a series of nine puzzles - and a final challenge - to unravel at the imbiber's leisure. Each is marked with a letter, which corresponds to a clue that can be found by scanning the printed QR code or visiting the website. Yes, this coffee mug/game has a companion website. That clue will be the only given solution aid, and all nine key awards must be collected to unlock the last design. Think of it as a play-at-home escape room that can also hold tea.
Looking at the preview images on the Kickstarter description page, the puzzles range in size and intracacy but seem to follow a theme of geometric patterns, dot-and-arrow designs and positional relationships. Rain Games is producing two versions: the Butterfly model is the flagship mug, and a J29 version is themed after the company's previous title - Journal 29 - with its own set of mysteries to unravel.
Journal 29 set the puzzle solution submission model carried on by the Conundrumug, where access was locked by awarded clue keys. The interactive book allowed players to sketch, take notes, fold pages and physically interact with the book in order to solve all of its 63 riddles. Rain Games is reprinting this game as part of the current Kickstarter campaign.
Beyond the incredible portmanteau (tastes may vary), the Conundrumug ostensibly misses a golden opportunity of working temperature-based hidden information into the puzzle design. Like pouring lemon juice on the back of the U.S. Declaration of Independence, this writer would feel like an unmitigated genius if pouring hot coffee into their own Conundrumug revealed a shadowy tableau of information.
The Kickstarter campaign for the Conundrumug runs until May 6th, with thirsty backers able to secure a vexing vessel for $19 (£14) or the pair for $29 (£23). Shipping worldwide is expected to start in November of this year.