The Game: Face to Face drops cooperation for two-player variant
Masks on, face off.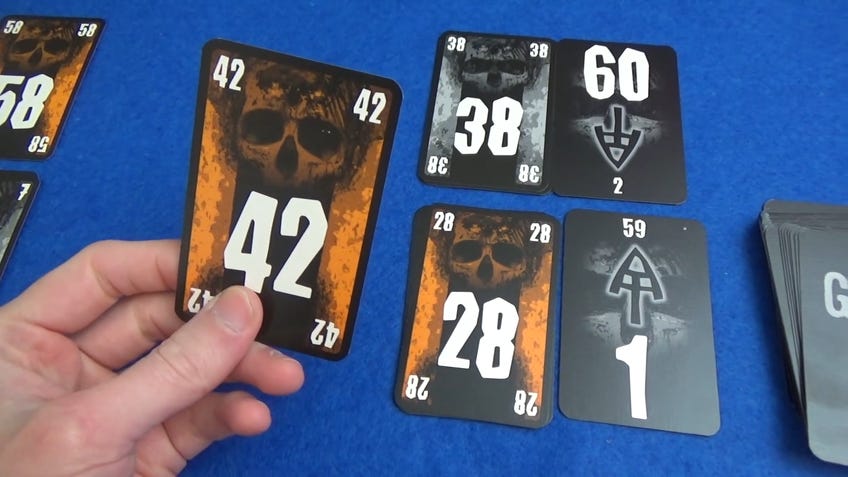 Oft-remixed cooperative card title The Game will release a duet version subtitled Face to Face in April that ditches teamwork in lieu of a race to the bottom of the deck.
With much of the world still grappling with restricted access to public spaces and large gatherings for public safety, two-player board games continue to be a worthwhile method of scratching the hobby itch. Publisher Pandasaurus Games continues to fill that niche by localising the competitive version of designer Steffen Benndorf's hand management game.
Face to Face will play similarly to the standard version of The Game, with both players attempting to clear their hands by laying cards on piles of both descending and ascending order. The cards in the deck are numbered 1 to 100, and opponents alternate turns discarding onto their two distinct piles in a race to burn through their cache first. It will sometimes be necessary to play cards onto an opponent's side, invariably aiding them in an attempt to not fall behind
The Game in its classic setup encourages those at the table to work together and build off each others' momentum, and it seems as though Face to Face translates a bit of that into this duel arrangement. Playing defensively will force opponents to discard across the table in an attempt to fuel their engine, while racing ahead could leave those not paying attention eating dust.
Bennedorf, who co-designed The Game: Face to Face with Reinhard Staupe, also created family dice game Quixx and the zen garden pattern-building title Ohanami. Pandasaurus has been responsible for publishing 2017's Dinosaur Island and the quick bingo game Silver and Gold.
Originally released in Europe in 2017, The Game: Face to Face will be available to purchase elsewhere on April 28th, but the publisher did not specify in the press release which regions would be eligible for shipping.