Tiny Epic Dungeons delves deep for its next entry in the quick-play board game series
Stopwatch spelunking.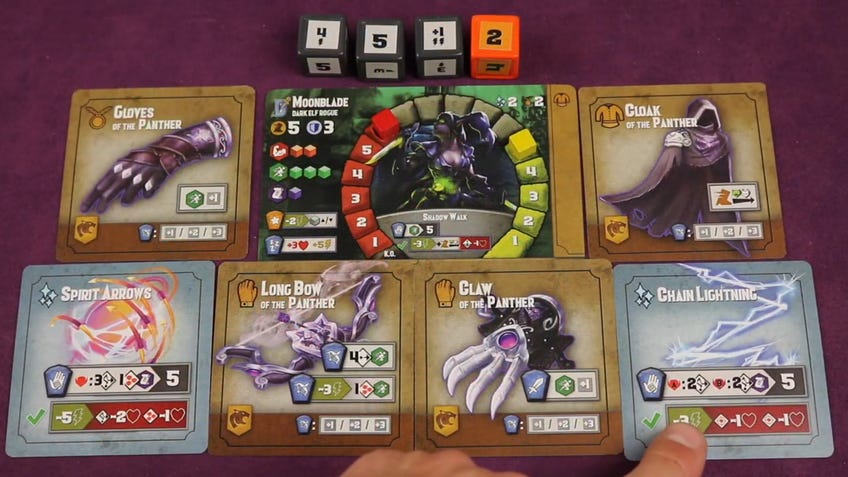 Gamelyn Games continues its long-running series of cooperative board games with Tiny Epic Dungeons, a fantasy-themed adventure set in its world of Aughmoore with a Kickstarter campaign launching February 23rd.
Tiny Epic Dungeons brings back the core mechanics of past titles by sending one to four players dungeon crawling in search of the Boss lurking somewhere below. The party survives by the light of a single torch, and when it goes out the darkness will trap them below the surface forever. This acts as a turn timer spanning two acts - The Dungeon and The Boss - which the party needs to overcome using class abilities and collected loot.
In the Dungeon phase, adventurers can expect to face minions, traps and larger threats as they gradually uncover interconnected rooms represented by square tiles. Not only does this provide the opportunity to gather gear - Tiny Epic Dungeons introduces gear sets that provide bonuses when completed - but also to locate the ever-important ritual room. The dungeon's Boss can only be slain by luring them to the ritual room before combat begins.
Players will take on a classic fantasy role, such as a barbarian, rogue or sorcerer, and each boasts unique abilities, spells and gear to collect while exploring. Minions and the endless horde of goblins can be dispatched using six-sided dice to attack and make skill checks.
In a preview video, Gamelyn Games showed four different Boss cards for The Dragon, Goblin King, Dragon and Beholder-adjacent Seer. Each comes with their own flavour of minions and effects that will harry the party at every possible moment. Additionally, a tweet shared by Gamelyn Game's account seems to suggest Tiny Epic Dungeons will be the first title in the series to include full miniatures in lieu of meeples.
Tiny Epic's line of themed board games are designed for sessions lasting no more than one hour, compacting various themes and mechanics into a tight concept. Gamelyn previously visited the fantasy well with 2015's Tiny Epic Quest, sending players off to complete a series of missions to gain the most victory points. The studio released Tiny Epic Pirates this year, employing a rondel for players to choose a different action each turn as they attempted to bury their ill-gotten booty first.
Tiny Epic Dungeons will be launching a Kickstarter campaign on February 23rd, and more details on pricing and shipping will be available then.