Arkham Horror: Mother's Embrace finally announces a release date
Cosmic console horror.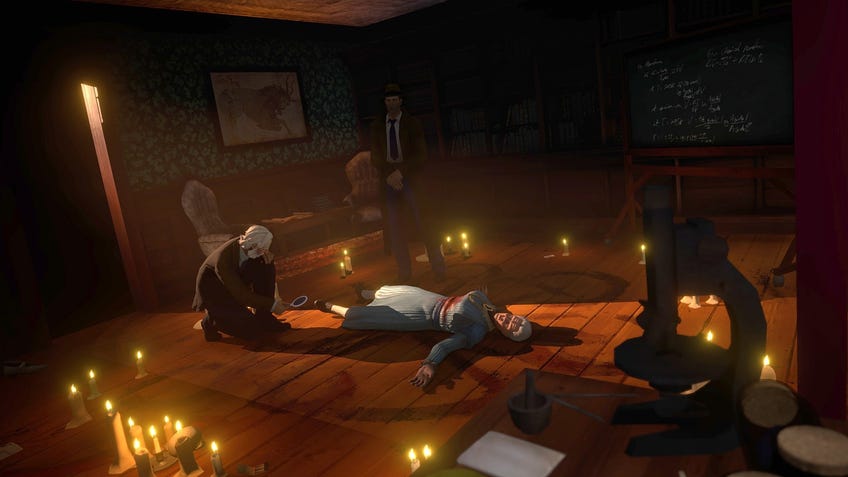 Arkham Horror: Mother's Embrace invites players to once again delve into cosmic terror and deadly mysteries with a video game adaptation of the long-running and acclaimed Chthonic board game series planned to release on March 23rd.
The title began life as Mansions of Madness: Mother's Embrace in 2018, advertising a full spin-off of the cooperative board game. A series of delays and shuttered development studios pushed it back to 2021, and now fans can finally circle a date on their calendars.
Developed by Artefacts Studio (Space Hulk Tactics) and published by Asmodee Digital - the branch of the tabletop giant responsible for translating dozens of popular games to consoles and PC - Arkham Horror: Mother's Embrace is an investigation game set in a universe full of dark legends, weird magic and reality-warping entities based on the Cthulhu mythos.
"The year is 1926: a professor of astronomy is found dead in her mansion and everything indicates that she has been the victim of a heinous murder. Choose from 12 intrepid investigators from the Arkham Horror games, each with a unique set of skills, and assemble your team to shed the light over this mysterious death," reads the title's Steam description.
Plenty of mechanics from the Fantasy Flight's physical series will crop up: players are tasked with collecting clues to solve an ever-deepening mystery surrounding a cult and its heinous plots. The assembled team of investigators will need to carefully manage their sanity to avoid accruing trauma - slipping too far can open cosmic doors better left untouched. (The use of terms such as "trauma" and "sanity" carry a lot of mental health stigma to an already problematic literary genre. Seeing their continued use here is disappointing.)
Initially planned for PC and Mac, it was announced last year that Arkham Horror: Mother's Embrace would also release for PS4, Xbox One and Nintendo Switch. Asmodee Digital has not said whether the game will be available on the new PlayStation 5 or Xbox Series X|S consoles.
Arkham Horror: Mother's Embrace will release on March 23rd 2021, priced at $19.99/19,99€ on all platforms.