Tsuro publisher is offering a bundle of three quick and easy board games
Spin a yarn, refeather a peacock and help some meeples home before supper.
Sometimes you don't want to spend half the evening setting up a complex board full of tokens, dice, counters and other assorted cardboard. A well-balanced shelf should provide options for fun in under an hour, which is what the Calliope Game Night Extravaganza promises with its three-game collection.
Calliope, the publisher of Tsuro and Hive Mind, has packaged a set of new games together as a bundle of affordable and easily portable fun. Each boasts different mechanics and playstyles, along with an estimated play time of anywhere between 20 minutes to just under an hour. Their theming, too, ranges, so don't let the circus trappings of the Kickstarter fool you into thinking this is a three-ring elephant and trapeze artist situation.
Allegory is a bidding game for two to six players about constructing an archetypal story from a deck of cards one piece at a time. The winner will be able to theme their tale appropriately by the end, showcasing some aphorism or Aesop-worthy throughline. Once you seize one of the five cards on offer, your tokens get distributed among the rest of the cards, making them more enticing to your opponents. You'll build three stories consecutively but only be scored on the least successful of the lot. Everyone's a critic.
Enchanted Plumes tasks two to six players with feathering a peacock from a deck of magical feathers in order to create the most majestic bird in the bunch before the peahen is drawn from the deck. Using a constantly replenishing hand of numbered and coloured feathers, you must arrange cascading rows of matching colours capped off with a final hidden card. You'll be able to un-pluck two birds each game - your highest point total will contend with others for the attention of the peahen.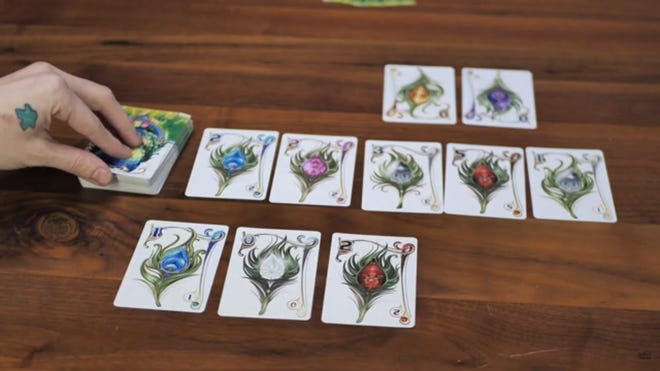 The last game in the bundle, Mass Transit, sees one to six players cooperating to deliver six passengers home using limited means of communication between them. Cards played from your hand extend three different avenues of travel - roads, rails and rivers - out from a central hub, but moving the meeples along that route is only possible by discarding cards. This is made all the more difficult because you can't explicitly say what you intend to do, nor what kind of cards you currently hold in hand. Concocting sly phrases your teammates can intuit is all part of a winning strategy.
The Kickstarter campaign for the Calliope bundle will run until December 11th. Backers can grab all three for $40 (£30) or each game separately. Shipping is expected to begin in November of next year.