2019 was the biggest year for Dungeons & Dragons in the RPG's almost 50-year history, says Wizards of the Coast
As starter set sales quadruple.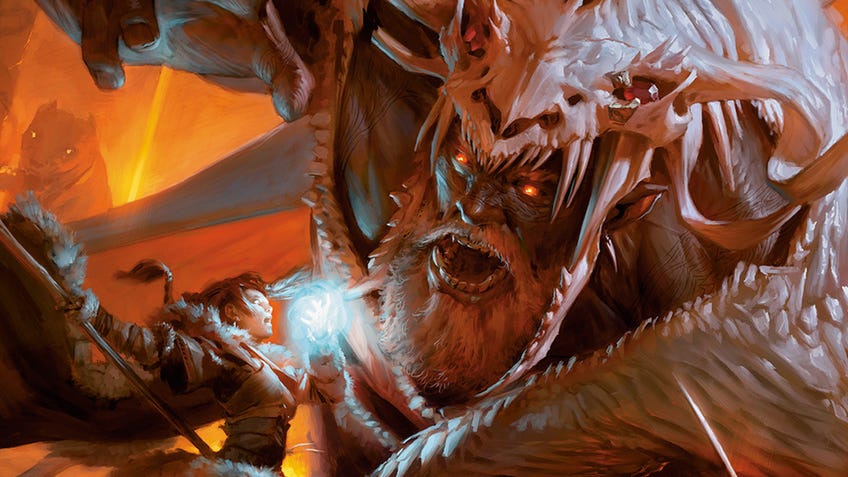 Dungeons & Dragons saw its biggest-ever year in 2019, according to the tabletop RPG's maker Wizards of the Coast.
The publisher said that driving the fantasy tabletop RPG's rise in popularity were hit actual play series such as Critical Role, which saw its own Dungeons & Dragons 5E sourcebook spin-off earlier this year in Explorer's Guide to Wildemount, along with the game's appearances on TV shows such as Stranger Things. Meehan recently took a look at Explorer's Guide to Wildemount and found it to be the best book for D&D 5E since the fifth-edition core rulebook was released in 2014, for Critical Role fans and non-Critters alike.
Wizards claims that 4.3 billion minutes of Dungeons & Dragons gameplay were watched on livestream platform Twitch last year, with YouTube viewership of D&D videos increasing by 59% compared to 2018. (Including Dicebreaker's own D&D 5E series Dungeonbreaker!)
Dungeons & Dragons' growing mainstream presence helped the RPG's "introductory boxed products" - such as the fifth-edition starter set, which teaches players the basics of how to play Dungeons & Dragons 5E - to quadruple in sales year-on-year from 2018 to 2019. According to Wizards, 2019 was the sixth consecutive year that Dungeons & Dragons has continued to grow, increasing 65% in Europe alone, making the last 12 months the "best year" in its 46-year history.
The publisher also revealed some interesting details about the people who play Dungeons & Dragons, with Wizards claiming that D&D now has 40 million global "fans" - though whether that counts just the people who play the RPG, or extends to include people who watch D&D content but don't play themselves, is unclear. (Dicebreaker has reached out to Wizards to clarify the figure, and will update this story as necessary.)
According to the publisher's data, the majority of Dungeons & Dragons players are under the age of 30, with 40% of players aged 24 or younger. Around a fifth (19%) of players are aged 30 to 34, the biggest single five-year age bracket for the game.
Most Dungeons & Dragons players identify as male - 61% - but Wizards highlighted the "growing" number of players who identify as female, who now comprise two-fifths (39%) of the overall audience. Under 1% identify as non-binary or "other".
Wizards of the Coast recently released Lost Mines of Phandelver, the adventure included in the D&D 5E Starter Set, for free on digital app D&D Beyond. The scenario takes new players from level one to five, making it a solid leaping-off point for beginners.