Monopoly to update Community Chest cards with fan vote and celebrity game for charity
No more bank errors in anyone's favour.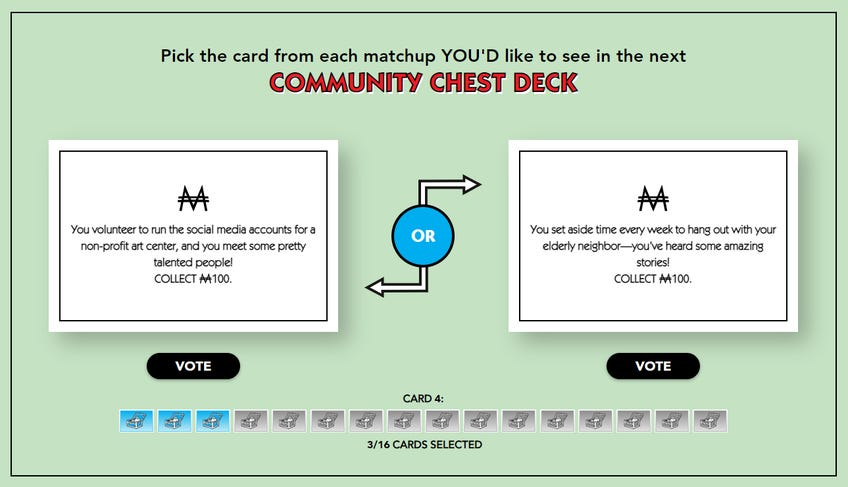 Monopoly - classic property trading game and scourge of holiday weekend gatherings - is undergoing spring cleaning by changing the text of its Community Chest cards for the first time in eight decades, using an online fan vote to decide the new choices.
Publisher Hasbro announced the digital directive on March 18th as a way for fans to steer the course of the game and sell a concept of togetherness it noted has been in short supply lately.
"Covering topics like beauty contests, holiday funds, and life insurance, there is no denying the Monopoly game's Community Chest Cards are long overdue for a refresh," it said. "And, coming out of the tumultuous year of 2020, the term 'community' has taken on a whole new meaning."
Ignoring the devastating implications of life insurance being an outdated and ostensibly useless term, the cards do reflect the sensibilities of 1930s, when the stolen version of Elizabeth Magie's The Landlord's Game first hit store shelves. Hasbro claims the refresh will reflect a more contemporary understanding of living within, and helping sustain, modern communities.
The general public can visit the Monopoly Community Chest website and vote on their favourites among two potential cards. The pair might look something like "You help your neighbour bring in her groceries. She makes you lunch to say thanks!" alongside "Meow! You knit cosy sweaters for the hairless cats at your local animal shelter."
Whether the end result is collecting or paying, the subjects tend to focus on volunteer work - with official organisations or the people down the street - such as providing food, recycling or trash pickup and supporting youth activities. All of these are noble goals to enshrine in a board game found in the closet or dusty shelf of nearly every home in existence.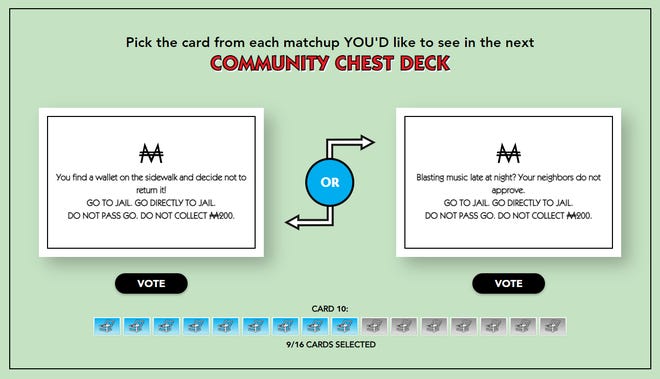 Perhaps the oddest changes are the cards that send players to jail (directly, without passing Go nor collecting their 200, uh… Monopoly bucks). One choice implied not returning a lost wallet or playing loud music late at night are both jailable offenses. Given the family nature of the game and the gaining popularity for prison system reform, one might think Hasbro would seize the chance to remodel this mechanic, as well.
The company is planning to mark this change with the first-ever Monopoly Charity Classic, a livestreamed game where a group of yet-to-be-announced celebrities will play to win a portion of a $350,000 (£252,460) pot, donated to the charity of their choice. It will be the inaugural use of the new Community Chest cards.
Retail versions of the updated Monopoly game will hit stores this autumn, Hasbro said. Fans can vote multiple times while the selection remains open.