You can now play Ticket to Ride with Amazon's Alexa
Let Amazon help you get on track.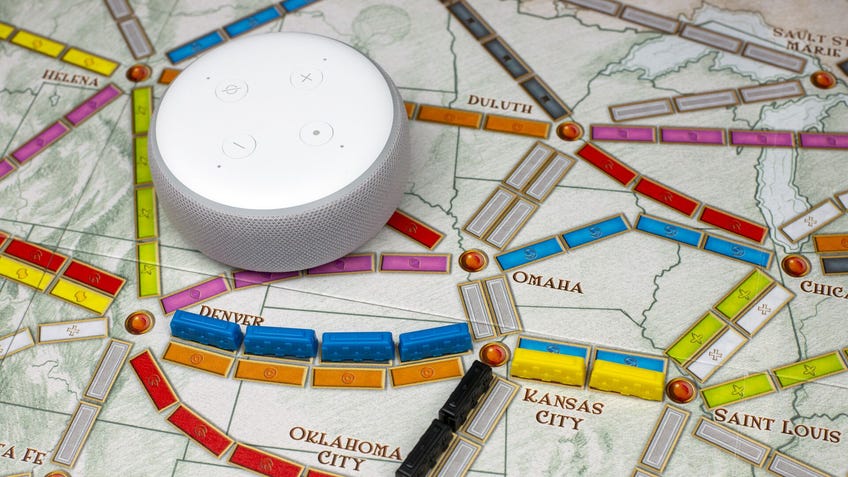 You can now play Ticket to Ride with your own robot companion, as the hit train board game arrives on Amazon's Alexa.
Not only can the voice-activated bot now teach you the game, it can also play alongside you - opening up solo play for Ticket to Ride.
Just shout "Alexa, launch Ticket to Ride" in your appropriate language, and it'll guide you through the whole process of playing, from setting up the board and components to explaining the rules. Veteran players can skip through those bits.
Alexa will also keep track of trains, points, and all the other bits you'll need to play. It can even save your progress.
In addition, if you're short a friend, Alexa can fill that spot too.
It'll also cheerfully up the Ticket to Ride ambience for you, selecting atmospheric music and playing sound effects at (hopefully) the appropriate times.
For example, when you hit New Orleans the soundtrack will go all ragtime, whereas folks in New York can enjoy soft jazz.
The Alexa Ticket to Ride 'skill' - what apps for the AI home assistant are called - is completely free and requires no installation. Currently, it's available for Ticket To Ride and Ticket to Ride: Europe.
Ticket to Ride's new Amazon voice assistant isn't the first time a benevolent bot has been used in a board game.
For example, When in Rome used Alexa to host a travel trivia board game, while St. Noire saw the AI act out a cast of characters in a murder mystery.