D&D video game Baldur's Gate 3 re-rolls initiative, moves PC release date forward a month
PlayStation and Xbox players will have to wait a while longer, though.
Baldur's Gate 3, the next instalment in the decades-spanning D&D video game series, has shifted its PC release date up by almost a month.
Baldur's Gate 3 has been in early access on PC for over two years, with Divinity: Original Sin developer Larian Studios making the first act of the lengthy RPG available in late 2020, alongside a number of its playable races and classes - all pulled directly from Dungeons & Dragons' rulebooks.
Various updates have since expanded the current roster of character options to include the likes of drow, gnomes and githyanki, along with classes such as clerics, warlocks, druids and bards.
The full game will include a dozen D&D classes, 46 subclasses, 11 D&D races/species and 31 subraces from the tabletop RPG's Player's Handbook, plus most of the skills and spells - over 600 in total - seen from the rulebook, along with the second two acts of Baldur's Gate 3's story. As well as giving players the option to create their own custom D&D-style character, those classes and races will be combined in seven pre-made playable heroes with set backstories, personalities and motivations.
Baldur's Gate 3 had originally been given a release date of August 31st on PC and PlayStation 5. Now, however, Larian has shifted those dates around - pulling the PC launch forward by close to a month, while the PS5 date slipped back a few days.
Baldur's Gate 3's PC release date will now be August 3rd, with the PlayStation 5 launch following a month later on September 6th.
Explaining the date changes, Larian publishing director Michael Douse said that the PS5 delay was an effort to allow the studio to reach "the highest possible quality on every platform", citing the aim to achieve 60 frames-per-second performance.
"We've always been a studio that aims to release on as many platforms as possible, in order of readiness," Douse said. "Reaching a technical bar that matches our design ambitions felt like the right move, while holding back the PC version when we knew we'd be ready felt like the wrong move in such a busy launch period."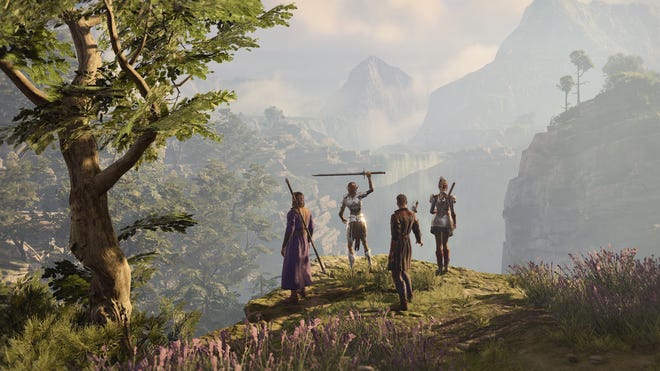 The Xbox version of Baldur's Gate 3 is yet to be given a date, with Larian recently telling IGN that "technical issues" and "constraints we have to overcome" in relation to the Microsoft console required the studio to spend more time working on the port, adding that "compromises" were likely but it was still targeting a 2023 launch.
Ahead of Baldur's Gate 3's launch, Larian also dropped some fun tidbits about the scale of the Dungeons & Dragons adventure, with its script spanning more than two million words - over three times the length of all three Lord of the Rings books combined - and its cutscenes spanning over 170 hours, twice the runtime of Game of Thrones from start to finish.