Tabletop RPG Charity Bundle for Trans Support packages 75 games for $20
Proceeds benefit both Mermaids and the Transgender Law Centre.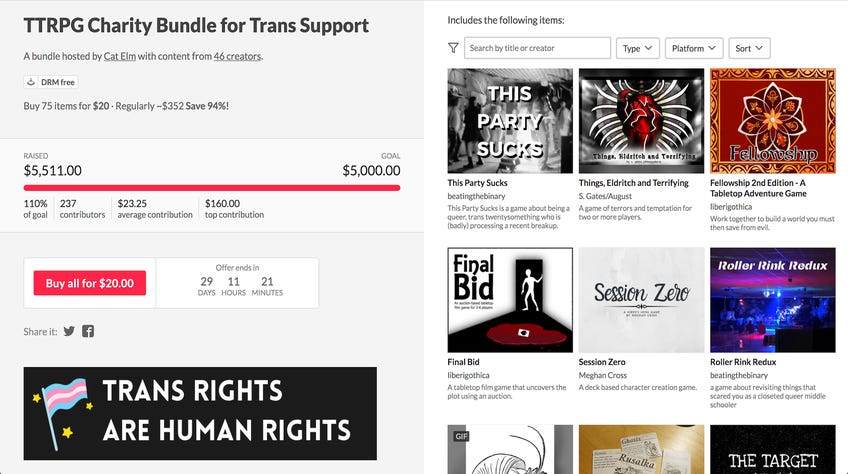 Nearly 50 tabletop designers have banded together to fundraise support for two charity organizations by selling their games in the Tabletop RPG Charity Bundle for Trans Support on digital platform Itch.io.
The bundle contains 75 games, supplements and pieces of art for $20 (£14) that players can experience on their own or with a group around the table. All proceeds raised during the sale, which extends throughout the month of June, will be split evenly between Mermaids in the UK and the Transgender Law Centre in the US.
June is Pride Month in the United States, celebrating groups of people who both have dealt with historic discrimination and are still subject to such today on a consistent basis. The UK is currently facing a surge in transphobia taking the form of anti-trans court rulings and a rise in hate crimes against trans people. Mermaids is one of the most well-known organizations providing support for the country's trans community in the form of education, physical and mental health resources and reaching out to teachers, social workers and other public employees to build coalitions.
The Transgender Law Center advocates for the US trans community in courtroom cases that would adversely affect the lives of trans people but also by helping develop programs along intersectional lines in BIPoC and disability communities.
The bundle includes an array of titles to fit the needs or desires of any group, including Delilah Worthy's Midnight Sabbath, a group game about drunk witches talking about feelings and building the nerves to ask a very attractive demon at the bar for her number. Ocean Tides: A Game of Entanglements positions the group as pirates, mermaids or a naval captain who have found themselves thoroughly enmeshed in a tricky situation on the high sea. Solo players may enjoy Anna Anthropy's Princess with a Cursed Sword, a journaling game about reckoning with power and facing the choice to leave it all behind.
Bundle coordinator Cat Elm has included two of their own games: On the Path is a Witcher-inspired hack of Honey Heist (which is an incredible meets-meets), and Guns & Repercussions remixes John Harper's Lasers & Feeling to tell stories about a group of monster hunters who desperately need to talk about their emotions.
The Tabletop RPG Charity Bundle for Trans Support will remain available through July 3rd. It reached its initial fundraising goal of $1,000 (£708) on the first day and has successively broke through its secondary goal to sit at $5,491 (£3,888), at time of writing.