Kickstarter executive cancels The Perfect RPG campaign amid backlash to Dungeon World co-creator's involvement
Other collaborators reportedly weren't told of Adam Koebel's contribution.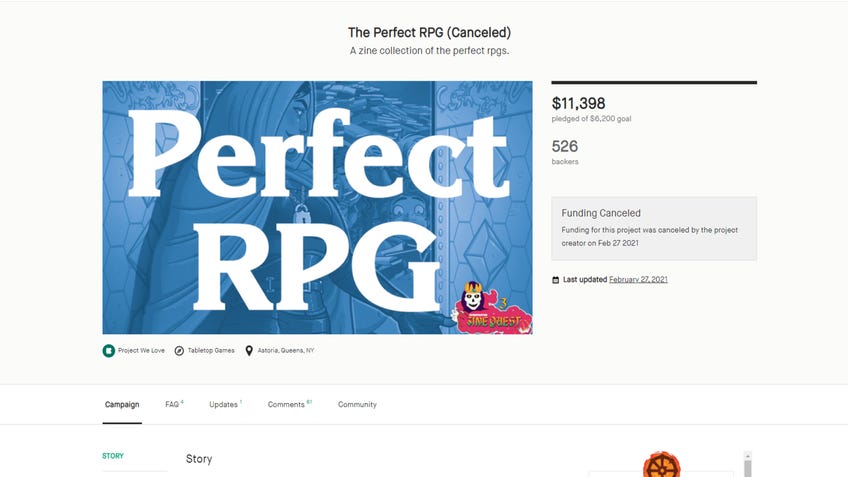 Kickstarter's VP Head of Community Luke Crane has cancelled the recently launched campaign for The Perfect RPG after receiving public backlash to the inclusion of designer Adam Koebel as a contributor.
In 2020, Koebel - Twitch streamer and co-creator of popular fantasy system Dungeon World - faced public scrutiny amid the fallout of his roleplaying a non-consensual sexual assault scene with another player on a livestreamed session of the Far Verona actual play series. The other player had no foreknowledge of Koebel's plans and later released a video stating they would be leaving the show.
Far Verona ended shortly thereafter, and Koebel issued an apology publicly criticised for its lack of responsibility or understanding of consequences. He has since deleted his Twitter account. Later in 2020, Modiphius announced that it would end its working relationship with Koebel on the upcoming Dune: Adventures in the Imperium, where he was apparently designing safety tools for players and GMs.
Behold, perfection: https://t.co/zMpWUV76ZN

— Luke (@Burning_Luke) February 27, 2021
Crane, previously Head of Games for the massive crowdfunding platform, announced The Perfect RPG on February 27th via a Twitter thread, saying, "Behold, perfection". The campaign description included an initial list of 26 designers contributing games specifically for the physical zine edition of his game. It was formatted in reverse-alphabetical order and included notable creators such as Carol Mertz, D. Vincent and Meguey Baker, and Sean Nittner. Koebel's name appeared at the very bottom of the list.
Responses to Crane's announcement tweet immediately asked why Koebel was involved, criticising the move and wondering how so many other designers would also involve themselves with such an endeavour.
"This is disappointing in many ways. There are creators here I want to support, but I can't because of Adam's involvement," replied game designer James Introcaso, who has previously worked with Wizards of the Coast on several official D&D 5E supplements, along with designing on RPGs City of Mist and Burn Bryte. "Also, it looks like here and in your FAQ, you're failing to address your most frequently asked question."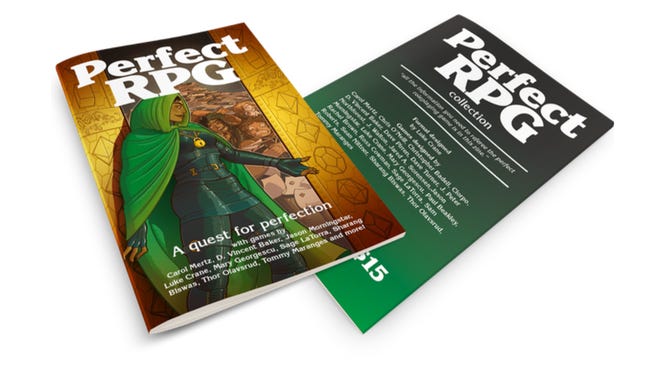 Hours after the announcement, designers began publicly announcing their departure from The Perfect RPG, saying both their names and their work would not be featured in the project. Sage LaTorra, who co-created Dungeon World with Koebel, tweeted that he was unaware of Koebel's involvement before the public announcement.
"When I contributed I did not know the full list of contributors or the final campaign structure. Based the [sic] final campaign I've asked that my name be pulled," he said. He clarified shortly thereafter that his work would also be removed from the RPG.
By 5pm EST Mertz and Nittner, among several others, had also publicly ended their involvement with the project. Repeatedly, the designers explained that Crane had not provided a list of other contributors while planning the collaboration.
Crane continued to prune the list of names on the project throughout the 27th before finally listing "Redacted to reduce future harassment". The single update to The Perfect RPG's campaign, locked for backers only, can be seen in screenshots posted by Twitter user alendrel.
Titled "That Went Well", the post expresses Crane's thanks for backers' participation and his explanation for what happened.
"We appreciate the support but we have decided to cancel the project as I can no longer offer you what was promised. Many designers withdrew their support or were harassed to withdraw due to my including Adam Koebel as a designer of one of these games," it reads. "We will not relaunch or republish in a different format."
No designer initially included on the list of contributors has mentioned being harassed into leaving The Perfect RPG. Dicebreaker has reached out to Crane and several involved parties for confirmation of this claim. Crane has yet to address or explain Koebel's initial involvement.