Board games are expensive, so we tried to make our own for a tenner
It went about as well as you'd expect.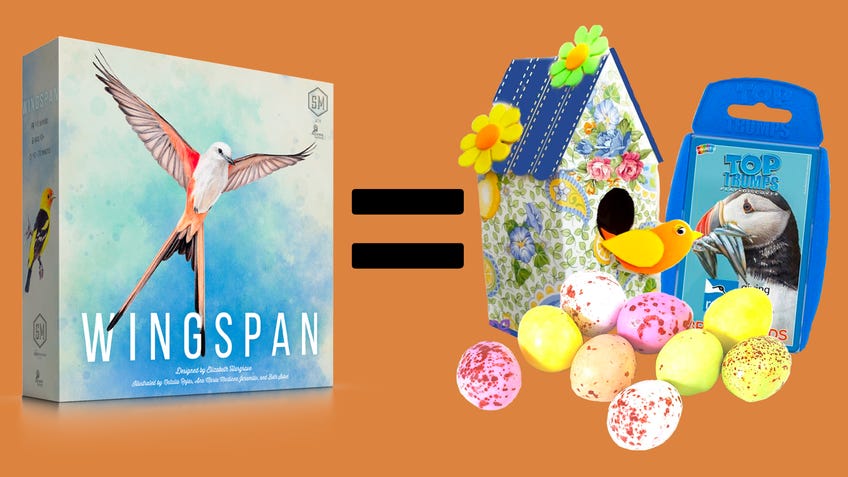 If you've bought a board game in the last few years, it'll come as no shock that they don't come cheap. The likes of massive boxes such as Gloomhaven, Twilight Imperium and Mansions of Madness will all set you back £100 or more going by their RRPs, while Kickstarter exclusives packed with miniatures and other premium components can push the price to double that. Even cheaper games can end up being eye-wateringly expensive to find if they've since gone out of print or need to be shipped from another corner of the globe.
That's not to say the price isn't worth it in most cases. A great board game can offer hours upon hours of fun and memories with friends, and might last you decades if looked after properly. But with more games releasing every year than ever before, and less time than ever to try and play them all, coughing up a triple-digit sum to buy the latest hotness you might only break out once or twice is a bigger ask than usual.
So, as a remedy to the next debt-inducing box of plastic and cardboard, we set out on a journey to try and recreate some of our favourite board games for a fraction of the price. We set ourselves the very reasonable budget of £10 - that's just under $15, for our American friends - and the task of trying to get as close to the spirit, if not the exact look and gameplay, of each game as possible.
It's worth stating here that this is all meant as a bit of fun, so please don't actually follow this advice if you're looking for a quality game night on a budget. If you're after a much better way to spend your money, there are countless brilliant games available for around £10 that offer just as much entertainment and staying power as their heftier counterparts. We've mentioned some after each entry to point you in the right direction, and would recommend you pick up one of those instead of spending a tenner on Mini Eggs, Top Trumps and tiles.
Wingspan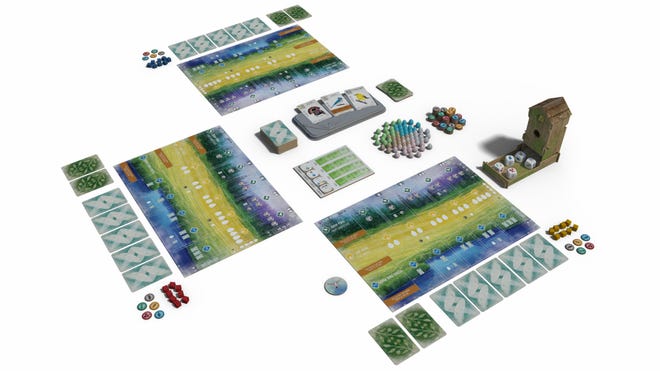 Wingspan is one of the most striking board games of the last few years, offering up shovels of interesting strategy in its engine-building gameplay - which sees players adding bird cards to different habitats to increase their point-scoring actions and abilities - helped by gorgeous artwork and components. Each of the game's cards features a unique bird found in North America that models its real-life counterpart, from its preferred food type to how many eggs it lays - all of which has an important effect on players' scores. And of course, it's impossible to discuss Wingspan without mentioning its pastel-coloured miniature egg tokens and the cardboard birdhouse that serves as a dice tower for the food dice during play.
While the original Wingspan itself doesn't feature any birds native to the UK, subsequent expansions have added feathered companions from Europe and Oceania. In order to try and recreate designer Elizabeth Hargrave's staggering in-game menagerie, we started by picking up a pack of RSPB Top Trumps (£6) from the avian charity's online store. (Which also features an exclusive edition of Monopoly and a bird-filled version of Guess Who?, if you're after gift ideas for the ornithologist in your life.) The set features 30 British birds, from robins and wrens to owls and kingfishers - while that doesn't quite match Wingspan's 170 different species, you can similarly compare their real-life traits and learn a little more about nature as you play, so we'd say it's not a bad alternative for the price.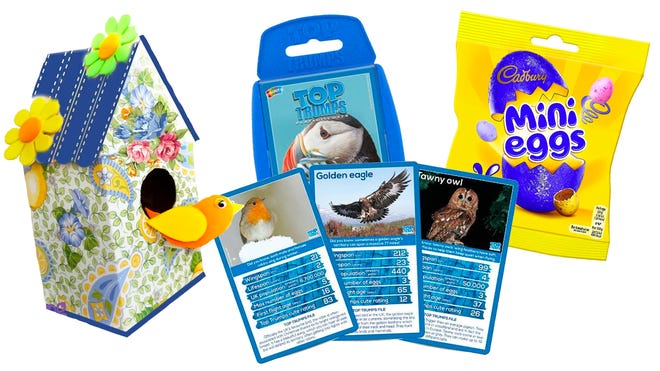 As anyone who's seen Wingspan will know, its egg tokens are delicious-looking by themselves, but are sadly extremely inedible, unless you prefer swallowing bits of your own teeth. Less likely to break your molars or your bank balance is a bag of Mini Eggs (about a quid from your local corner shop, probably), which make for a fine replacement - just don't play anywhere too warm.
Wingspan's delightful dice tower is among the components that make it stand out on the table. It's also among the cheapest to recreate - we found instructions for making a birdhouse from recycled cardboard (free), including a template, over on DIY craft site Artsy Craftsy Mom. Add a few pieces inside to ensure the dice tumble the right way and a hole for them to fall out of, and you can almost make it like-for-like. It's free, good for nature and is something you can make together as a family if you want to - what's not to like?
Rolling those dice is no use if you can't keep track of the food you've collected, though, Luckily, worms, berries and wheat can all be found for free outside - as can the habitats you place your birds in. Grab your Top Trumps, homemade birdhouse and Mini Eggs and head to your local green space for the Wingspan experience without needing to crack into your nest egg.
Board game RRP: £60
Our spend: £7
Rating: Wing and a prayer/10
A similar game, but cheaper: Piepmatz is another bird-filled card game with a beautiful art style, with players collecting sets of birds to score points.
Buy Piepmatz from Zatu and Amazon US.
Ticket to Ride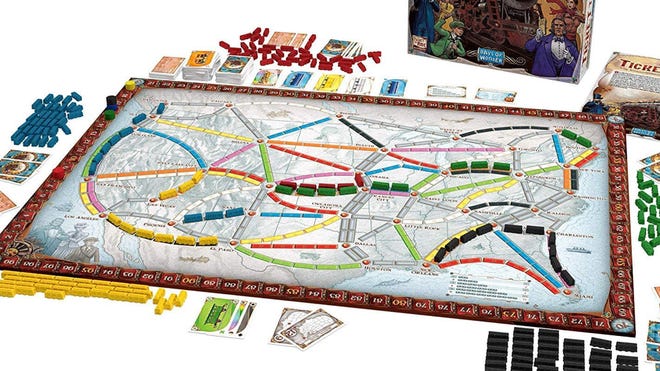 By now, Ticket to Ride has become a household name alongside Catan, Carcassonne and - dare we say it - even Monopoly. It's a wonderful family board game with a serene theme - travelling around the world by train - even if rail rage can emerge among more experienced players as they cut off their opponent's routes and go full steam ahead to complete their destination tickets fastest.
In the 15-plus years since the original Ticket to Ride set off on a trip across North America, the series has expanded with maps and expansions covering a significant portion of the world, from India and Asia to Africa and Europe. Some entries have even travelled back in time, visiting the early 20th century, or swapped trains for taxis, buses and other modes of transport.
With Ticket to Ride all about the journey, I decided to recreate it off the board by seeing how far north our budget of £10 would get me from Dicebreaker's home of Brighton on the south coast of England. (I didn't actually travel due to current lockdown rules in the UK.) As it turns out, not very far at all: £9.30 would get me a one-way single ticket to Gatwick Airport, according to Trainline, depending on the time I travelled. Not sure that would score many points in Ticket to Ride.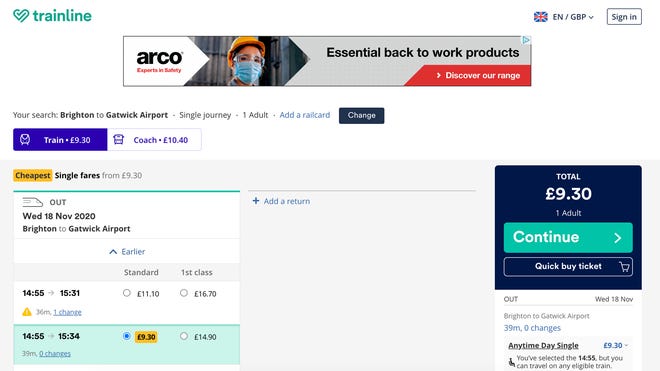 On a slightly less ambitious scale, I took inspiration from 15-minute spin-off Ticket to Ride: London and checked how far I could travel in a taxi for the same money. £8 to £11 would apparently get me from Buckingham Palace to St Paul's Cathedral, route planner Rome2Rio claims, which would net me six points for completing the route in the board game. At around seven minutes for the car ride, it's not far off the time needed to play the snappy title, either.
With the train trip from Brighton to Gatwick only taking half an hour, you'd probably need to be packing up any board game before you had a chance to play - for more reasons than one, maybe it's better to stay at home.
Board game RRP: £40
Our spend: About £9
Rating: Off the rails/10
A similar game, but cheaper: The city-set Ticket to Ride: New York and London both boil down the train game's route-completing action to 15 minutes, and can be found for close to our budget.

Buy Ticket to Ride: London on Amazon UK and Ticket to Ride: New York on Amazon US.

Catan

Catan - a classic full of trading, building and lots and lots of sheep.

25 years after it first settled on players' tables, Catan is now enough of a modern classic to have its own range of fashionable(?) socks and shoes, not to mention fans from here to Hollywood and even a blockbuster movie in the works. That's pretty impressive for a game previously most notable for the phrase "Wood for sheep?" Oh, and completely redefining what a popular board game looks like, we guess.

Buying a village or building a road on a £10 budget is maybe a bit much to ask, so we focused on finding cheap alternatives for Catan's other tokens: its resources. Wood and wheat can be found relatively easily for free if you wander in the right places, while we're going to give ourselves a bit of leeway and say that some stones we found count as 'ore'.

Sheep turn out to be a bit more difficult. The cheapest we could find on Farming Ads, a website we did not know existed before we googled "where to buy a sheep", was a Hebridean castrated lamb from Bristol for £30. Even without the cost of actually transporting the sheep across the UK, that's way over our budget - plus, we're not completely comfortable with the idea of purchasing and relocating a living animal just for the sake of playing a life-size board game, to be honest. We found a cheaper, more humane option in a plush Minecraft sheep (£6.90 on Amazon), which has the added benefit of requiring much less room and feed.

Longest road was easily solved by looking out the window at the A1. "Biggest army" is arguably a bit of a stretch unless you're a medieval monarch, so we instead went looking for a knight outfit to match the card. Fancy dress outfits sure are expensive, aren't they? Unwilling to dish out £15 on a pretty rubbish knight costume, we found a complete set of chess pieces on Wish for £1 - including two knights. Sorted.

Longest road, knight, sheep: the ingredients of Catan. A1 sign image: Kreuzschnabel/Wikimedia

Finally, the thief - another key part of Catan. Fortunately, we now happen to have 31 spare chess pieces lying around, so we've left them on the windowsill like a delicious pie in a Looney Tunes cartoon, just waiting to be pinched. It's only a matter of time - as soon as someone nicks one, that's our budget Catan complete. If our maths is correct, we've actually got two quid spare, so if nobody's tempted we might put it next to the pieces to spur them along.

Board game RRP: £45
Our spend: £8
Rating: Settled for less/10
A similar game, but cheaper: Catan itself has a number of smaller spin-offs that are cheaper than picking up the full box. The most readily available is the Catan Dice Game, which turns the board game into a roll-and-write game.

Buy Catan Dice Game on Zatu and Amazon US.

Azul

Azul's beautiful tiles complement its fantastic gameplay.

Michael Kiesling's board game about retiling the Portuguese palace of King Manuel I was acclaimed upon release, earning as much praise for its cutthroat tile-drafting gameplay - with players taking sets of matching tiles to add to their personal walls - as its wonderfully clacky acrylic tiles.

Named for the specific shade of blue that adorns the Royal Palace of Evora, Azul's own tiles are decorated in specific patterns that determine which rows they can be placed in during a turn, and the space they fill on a player's wall if the row is completed by the end of the current round. Filling in the wall carefully results in point-scoring combo chains, propelling players ahead - as long as their opponents don't claim them first.

If you plan on playing Azul with actual tiles, you might need to clear some shelf space.

While they arguably won't stand up to the artistic quality of the timeless architecture, we managed to approximate Azul's plastic tiles with a pack of 25 plain wall tiles for a fiver from B&Q. (That's the UK's equivalent of Home Depot, American pals.) They are a bit big and heavy to be stored on a game shelf, and only number a quarter of the small pieces in the box, but arguably pip the original for true immersion. (Best crack out that mastic.)

With half our budget spent, we then found some blue paint inspired by Manuel's azulejos. Unfortunately, a full pot was a bit too pricey for our budget, so we had to settle for a £4 sample from fancy interior design store Andrew Martin we could use to decorate the tiles.

Board game RRP: £40
Our spend: £9
Rating: Feeling blue/10
A similar game, but cheaper: It's a very different kind of game to Azul's tile-drafting and a little over our target spend, but Hive Pocket features equally chunky tactile pieces. The head-to-head hit is also one of the best board games you'll ever play - a brilliant modern successor to strategic classics like chess, but with added bugs.

Buy Hive Pocket on Amazon UK and Amazon US.

Sushi Go Party!

Sushi Go Party! expands the original card game with a mix-and-match menu. | Image credit: Sarah Jarvis

The original Sushi Go! is possible to find within our budget, but designer Phil Walker-Harding's expanded follow-up to his delectable dish-drafting card game is the version we'd recommend thanks to the option to combine different powers and scoring objectives each game for a more dynamic playing experience. It's also a bit more pricey than its compact predecessor, which gives us a nice excuse to order some sushi.

Browsing the delivery menu of our local sushi place, Cambridge's Sushimania, we tried to muster the best at-a-glance score we could based on Sushi Go!'s card sets and our modest budget. For £10 on the dot we managed three slices of salmon sashimi (£4.40) - which would net us 10 points in a round, thanks to completing the triple - and five pieces of sweet potato tempura (£5.60). A pair of tempura cards (the game shows prawns, but doesn't specify - so we're allowing sweet potato) scores five points in the card game, so that's another 10 points with a piece of tempura left over. After all, it wouldn't be Sushi Go! if you didn't end the round with at least one superfluous card in your hand. At least in this case you can eat it.

It might not score particularly well, but it does taste good. Image: Sushimania

Board game RRP: £23
Our spend: £10
Rating: Seems fishy/10
A similar game, but cheaper: Sushi Go! plays the same as its multi-course successor, only lacking the option to mix-and-match different cards in a custom deck each game. It's also half the price and easier to carry in your pocket, making it an accessible entry to the series if you're new.

Buy Sushi Go! on Amazon UK and Amazon US.

King of Tokyo/New York

Massive monsters throw down in King of Tokyo and its American cousin, King of New York.

Richard 'Magic: The Gathering' Garfield's pair of dice-chucking massive monster battle royale games have plenty in common. Both unleash no-holds-barred brawling as players scrap to occupy the titular cities, rack up points and smash their opponents into the floor. There's also their love of classic creatures from across pop culture, be it (legally distinct homages to) Godzilla, Mothra or King Kong. Another thing they have in common - at least for us here in the UK - is that they take place in capitals that cost just a tad more than a tenner to fly to. (When flying was still a thing.)

Working off the assumption that £10 is unlikely to get us halfway across the globe anytime soon, lockdown or no, it was time to look at a smaller alternative. Though we couldn't get to Tokyo or New York, we managed to bring a bit of the cities to us with a 3D puzzle of the Empire State Building (£8 on Amazon UK) and a pop-out map of the Japanese capital (£3.59 on Amazon UK). (The closest we could get with a below-budget puzzle was Mount Fuji, 62 miles away - not sure that quite cuts it for a game named after the city.)

If you can't go to the city, bring the city to you - and some monsters, too.

Okay, that's the Tokyo and New York bit done with. Now for the 'King'. Buying monster toys quickly blows our budget, so it's time to get economical. And what's more economical than Godzilla and King Kong in a single film? Ishir? Honda's 1962 classic King Kong vs. Godzilla (£2.29 second-hand on Music Magpie) packs both kaiju into a mere 92 minutes - easily enough time to play a round of King of Tokyo or New York alongside the roars of the city-stomping giants.

Board game RRP: £32
Our spend: £6 (Tokyo), £10 (New York)
Rating: City ruins/10
A similar game, but cheaper: Bang! The Dice Game lacks skyscraper-sized creatures, but still has plenty of heated dice rolls as three teams of players throw down to be the last left standing. With the added element of hidden roles, it could also sit comfortably alongside the King of games without jostling for a position.

Buy Bang! The Dice Game on Amazon UK and Amazon US.