Beez is the next board game from the creators of Azul
Combing out later this year.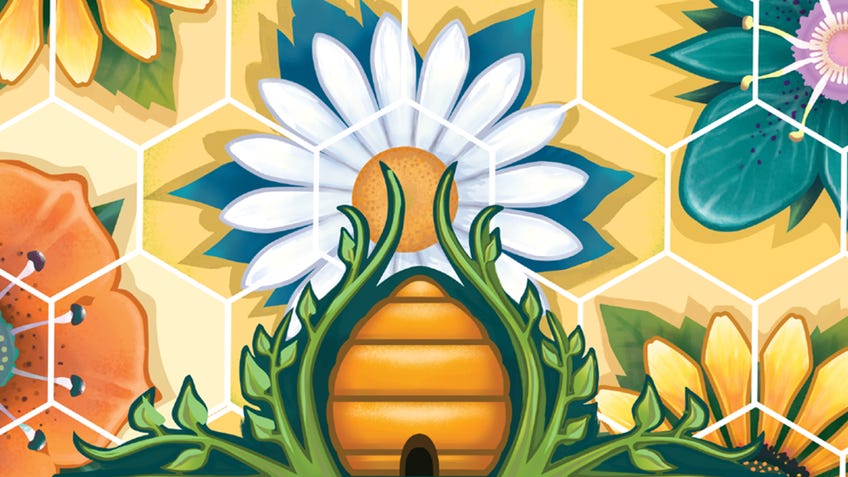 Coordinate a hive of bees on their mission to make nectar in the next board game by Next Move, the publisher behind the Azul series.
Beez is a game for two to four players wherein everyone takes charge of a squadron of the black and yellow insects as they attempt to gather pollen - which can eventually be used to make nectar for the hive.
During the game players need to plan out their flight routes through a set of tiles in order to reach the various flowers scattered across the board. However, they'll have to be careful to not intersect the flight paths of other bees as it may affect their score totals.
Storing nectar is the main way for players to score points in Beez- with the option to choose from a set of public and private scoring goals to pursue. The game will also come with a movement dial which will apparently affect how points are scored, however, that's all we currently know about it so far. (Thanks, BoardGameGeek.)
Beez will be the debut game from designer Dan Halstad and contains art by Chris Quilliams - who is renowned for his work on beginner board games such as Carcassonne and Pandemic Legacy: Season 1, one of our choices for best board games out there).
Known for releasing family-friendly board games with four letter titles - such as Tuki and Reef - publisher Next Move Games brought out its second entry in the Azul series, Azul: Summer Pavilion, last year.
Beez will be debuting at the Origins Game Fair this June, with no current retail release date or price confirmed.