Indigenous-owned FLGS Pe Metawe Games wants to build an inclusive hobby community, both near and far
"Gaming is for you, too."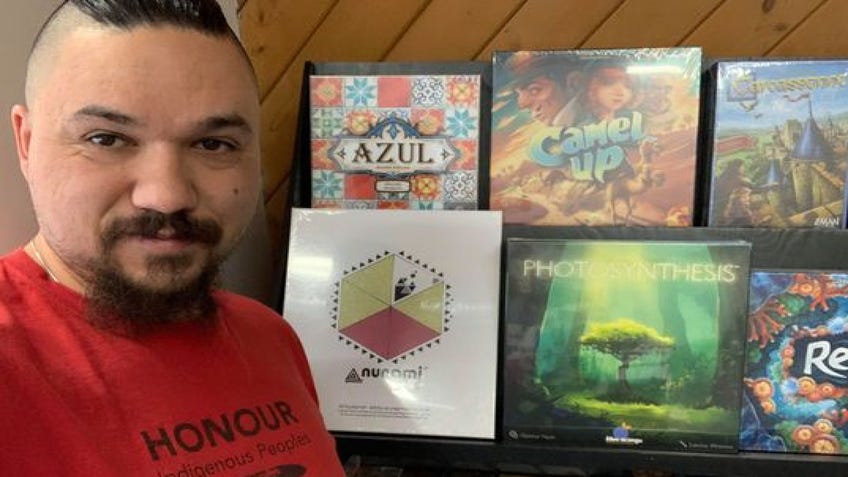 David Plamondon, owner of Pe Metawe Games in Edmonton, Alberta, has created an Indigenous-owned and operated hobby store in hopes of fostering a space for both players and designers to see themselves represented.
The 39-year-old business owner has spent the majority of his life in board games and tabletop RPGs, spending "thousands of dollars" on Dungeons & Dragons 2E sourcebooks. "I discovered tabletop RPGs when I was about 12 from a friend that had a used copy of Heroes Unlimited Revised that, based on where we lived I have no idea how he found," Plamondon told Dicebreaker via email.
Pe Metawe Games is in many ways the realisation of his love for the hobby and hopes for its future in his region. Established in early February as an extension of the existing Pe Metawe Consulting, the store bears a name - translated from Cree as "come and play" - and signage that reflects Plamondon's Whitefish Lake First Nation heritage.
Like any friendly local game store, Pe Metawe Games will serve as a destination for purchasing games, taking part in events and finding a like-minded community. Plamondon grew up in a fairly isolated community of 5,000 people and counts himself lucky that someone managed a well-stocked shop. Now, he wants to be that saving grace for a younger generation.
"As an Indigenous person, I've also been aware of the general lack of visible representation in the hobby here in Edmonton," he said. "I can name the two other Indigenous gamers that I know in the community. I can also count on one hand the games that have positive and authentic representation of Indigenous peoples in games. It's something we see and would like to address with the work we do and hopefully attract more Indigenous youth into gaming of all types."
Running a successful game store while staying mindful about the messaging those titles deliver can be tricky business. "We want to be mindful of the games we stock, but we're also gamers and we need to have games that are fun to play as well. The reality is that a lot of 'colonial' games tend to be well-designed and can be engaging to play if divorced from the messaging," Plamondon said.
Purchasing games from indigenous creators and putting them front-and-centre alongside titles they feel are designed around decolonised mindsets represents the most evident thrust in that direction. In a photo posted to social media, Plamondon shows off Inuit-designed Nunami on a shelf with strategic tile-placer Azul and Photosynthesis, which tasks players with sustainable tending and harvesting of trees. Proactively supporting designers through Kickstarter campaigns and retail purchases will be an ongoing avenue of material support Pe Metawe maintains.
Their first month of business has not been all positive. Plamondon said many have reacted to the emphasis on their being Indigenous-owned and operated as somehow denigrating other hobby shops.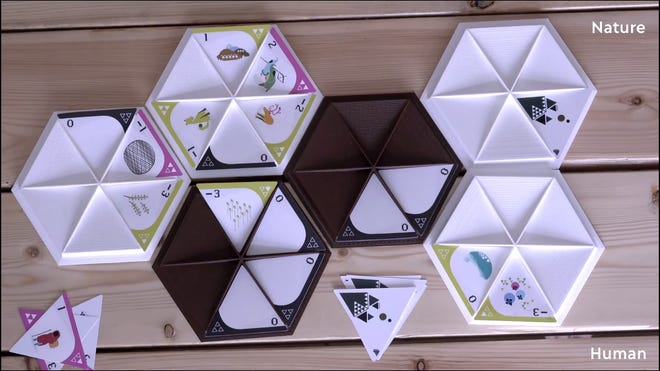 "There's a lot that makes us different, which I want to stress does not correlate with better," he said. "The biggest thing we want is to send a message to Indigenous people across our communities that says 'gaming is for you, too'."
The future of a physical store opening during an ongoing pandemic may seem perilous, but Pe Metawe's model allows the store to focus less on profits just to keep the lights on and allows them to take financial risks that better serve their immediate community.
Plamondon stressed Pe Metawe Games' "capitalism lite" approach to prioritising fair wages and fiscal transparency before any talk of expansion, as much as he would love to broaden their influence and connect with other indigenous-run businesses - especially in the tabletop space. It's a far-future goal for the whole staff, he says, but for now they want to focus on doing right by the marginalised in their community, including LGBTQ+ and people of colour.
"Very simply, we want to create a space that helps Indigenous people, particularly youth, discover the wonders of tabletop gaming," he said. "We want to see more Indigenous faces at the tables, see more Indigenous names on the boxes, and see more Indigenous influence in game design and art."