Batman: The Animated Series gets a new board game in Shadow of the Bat
Along with an expansion set in Arkham Asylum.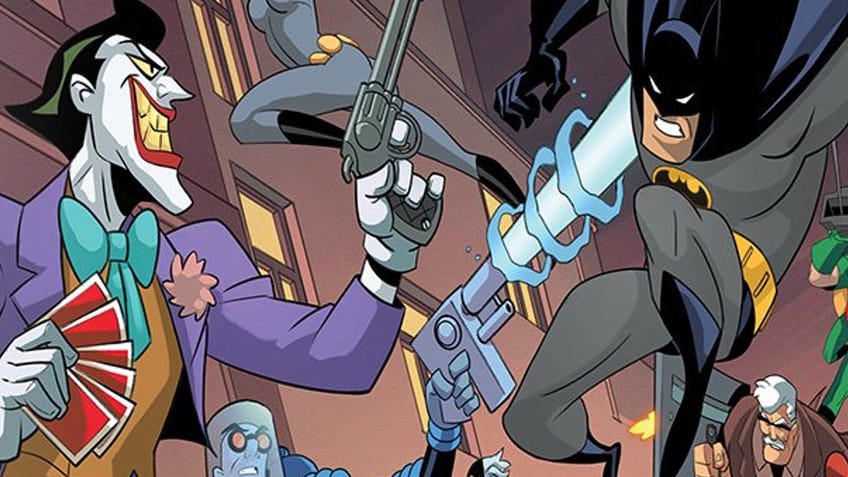 Update: We've updated this article to include today's Batman: The Animated Series Adventures - Shadow of the Bat Kickstarter launch.
A board game based on Batman: The Animated Series has landed on Kickstarter
Titled Batman: The Animated Series Adventures - Shadow of the Bat, it's a miniatures-driven board game with both a co-op and competitive mode.
In Shadow of the Bat players take on the role of a hero within the caped crusader's universe, such as Batman, Batgirl or Catwoman. Each character has their own unique abilities and custom dice.
As part of one of 24 missions - which are all inspired by episodes of the animated show - players work together to take down Batman series villains such as Two-Face, The Joker and Harley Quinn.
The villain can be controlled either by the game for a fully co-op board game experience, or run by a fifth player.
Full-sized expansion Arkham Asylum is also slated to launch alongside Shadow of the Bat. One of the campaign's stretch goals, it adds 13 more missions and a new game mode: Clayface. In this mode, one player is randomly assigned as Clayface - a Batman baddie that has shape-shifting powers.
As such, the Clayface player can reveal their true identity at any time. When this happens, they will transform and betray the other players.
In the Arkham Asylum expansion, players can take on villains imprisoned in the psychiatric hospital, such as Killer Croc, Poison Ivy and Clayface.
In addition to the expansion, more heroes and villains can be added via The New Batman Adventures character pack, which include Nightwing, Tim Drake as Robin, Calendar Girl and Firefly. This set of characters is based on the late '90s soft reboot of the animated series.
Story packs for Batman animated films Mask of the Phantasm and Mystery of the Batwoman are available as stretch goals.
Digital demos including three missions that follow episode Joker's Favor are available to try via Tabletop Simulator - a PC based platform which allows you to play digital versions of physical board games.
Shadow of the Bat uses the Adventures Universal Game System, which is an engine that works with multiple tabletop games, as all games within it are universally compatible. This means players can mix and match characters and missions across different games as they choose.
The game is a collaborative effort between Warner Bros, Batman publisher DC and board game publisher IDW Games - whose titles include Teenage Mutant Ninja Turtles Adventures - City Fall and the upcoming video game to board game adaptation, Metal Gear Solid: The Board Game.
IDW Games previously released Batman: The Animated Series - Gotham City Under Siege, a co-op board game for one to five players in which you play heroes from the series who have teamed up to defend Gotham.
Although it's nearly 30 years old, Batman: The Animated series is still considered one of the best portrayals of the pointy-eared millionaire in media outside of the comic book series. It won four Emmy Awards and Star Wars actor Mark Hamill lent his voice to popular Batman antagonist the Joker.
The upcoming board game Batman: The Animated Series Adventures launched on Kickstarter February 18th and has already surpassed its funding goal of £173,050.
Batman: The Animated Series Adventures is expected to arrive with backers in December.