Lords of Vegas co-designer announces reprint, Underworld expansion release and 10th anniversary edition
After picking up the publishing rights.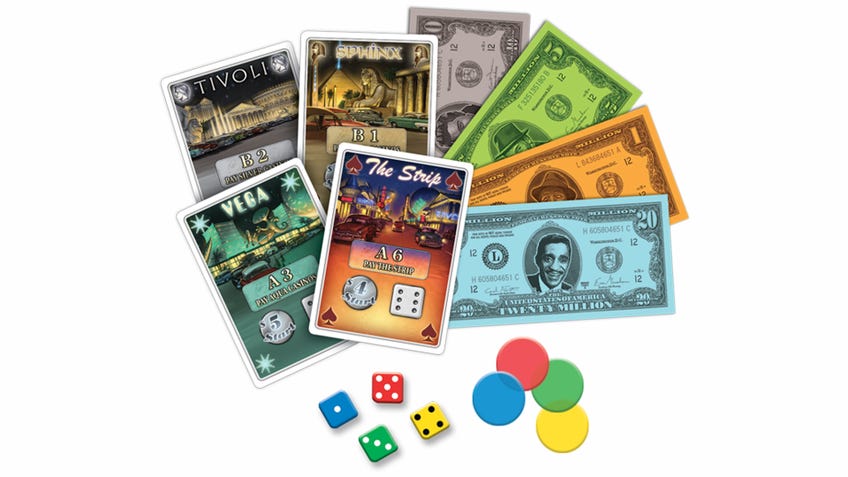 Casino-building board game Lords of Vegas is getting a new reprint, the release of its long-in-development expansion Underworld and a 10th anniversary edition later this year.
Designed by Kill Doctor Lucky creator James Ernest and Mike Selinker, who worked on horror board game Betrayal at House on the Hill, Lords of Vegas sees two to four players competing to become the most powerful gambling tycoon in Nevada City. Starting with a single empty parking lot, players gradually gain money and influence by building, developing and investing in new casinos.
Each turn a player reveals a card displaying a new lot and casino colour - with that player gaining the designated lot and the casinos matching the colour gaining money and victory points - before choosing to expand their casinos, buy out other players' properties, make deals or gamble within opponents' casinos in the hopes of making more money.
The winner is whichever player has the most victory points at the end of the game.
Lords of Vegas was originally published by Mayfair Games in 2010. As part of Mayfair's closure in 2018, board game giant Asmodee picked up the rights to its entire board game catalogue, with Pandemic publisher Z-Man Games taking charge of Lords of Vegas.
Selinker, who founded Lone Shark Games alongside Ernest (who has since left), announced that Lone Shark had now acquired the publishing rights for Lords of Vegas, bringing the game into the possession of its co-creator for the first time.
In a blog post, Selinker said that Lone Shark plans to reprint Lords of Vegas, as well as its "very-hard-to-find" first expansion Up!, which introduced support for an extra player and verticality to players' casino developments.
The designer added Lone Shark's hope to release Lords of Vegas: Underworld, an unreleased expansion announced by Mayfair Games in 2017 before vanishing into the studio's closure. Z-Man Games had previously confirmed that the expansion was still in development in 2018, but announced no details of a release date. The Underworld expansion adds characters to the game who have the ability to influence players' actions and dealings.
Finally, Selinker said that Lone Shark plans to "put together a 10th anniversary deluxe edition or something like it" for Lord of Vegas to mark the decade since the board game's original release.
Although details are yet to be fully confirmed, the Lords of Vegas reprint, Underworld expansion and 10th anniversary edition are expected to be available via a Kickstarter launching "ASAP".