Take on Doctor Octopus, Mysterio and the Sinister Six in the next expansion for Marvel United
The joy of Six.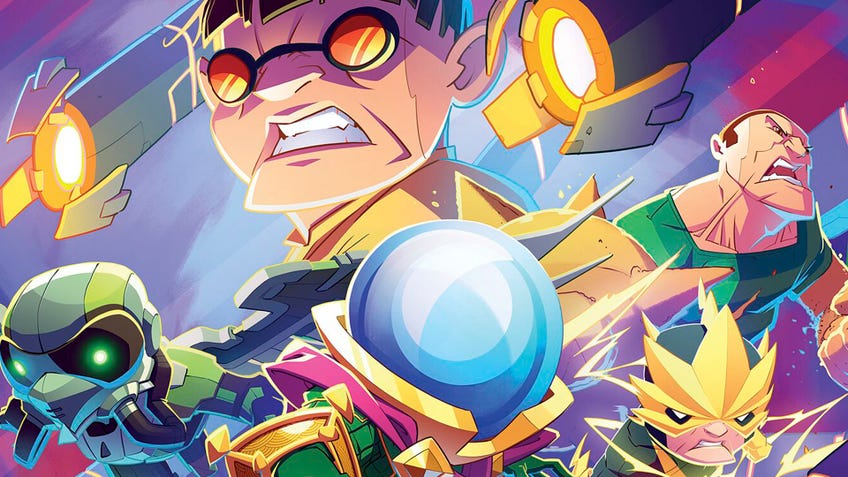 Test your superhero mettle on a clan of classic conniving cads in the Return of the Sinister Six expansion for Marvel United, the co-op board game that's currently live on Kickstarter.
Marvel United has its players becoming a team of crime-fighting superheroes bent on stopping the devious plans of a notorious villain.
Featuring a cast of iconic comic-book characters such as Captain America, the Hulk and Black Widow, Marvel United is a board game for two to four players that sees players working together to whittle down the health of their chosen nemesis, whilst carrying out damage control on the chaos caused by the villain's schemes.
On a player's turn they decide which action card to play from their hero deck - which will enable them to attack, move, save civilians and more - and perform that action as well as whichever actions are shown on cards played before theirs. This continues until the villain takes their turn and lays a masterplan card down in the same conga line, which could spawn additional henchpeople or do damage to the heroes.
The Return of the Sinister Six expansion for the upcoming board game ramps up the challenge by having players face off against a gang of criminals instead of just one, including classic Spider-Man villains Doctor Octopus, Kraven the Hunter, Electro, Mysterio, Sandman and the Vulture - each one seeking their own goals and holding their own grudges.
This combination of characters working against the players offers an entirely different mode from the base game, with each villain providing a unique threat that the superheroes will have to face if they want to win. As with the other Marvel United expansions, Return of the Sinister Six requires the base game and can be played using any of the Marvel United superheroes, including those featured in other expansions.
Marvel United is being published by CMON - the company behind co-op board game Zombicide and the Viking-themed Blood Rage - and Spin Master Games, the creator of party board game 5-Minute Dungeon.
The Kickstarter for Marvel United has raised over $1.5 million, with the campaign set to finish on March 5th. The Return of the Sinister Six expansion is priced at $35 (£27) and is estimated to ship sometime in March 2021.