New York Zoo is the next tile-laying board game from the designer of Patchwork
Agricola and A Feast for Odin creator Uwe Rosenberg's next puzzle.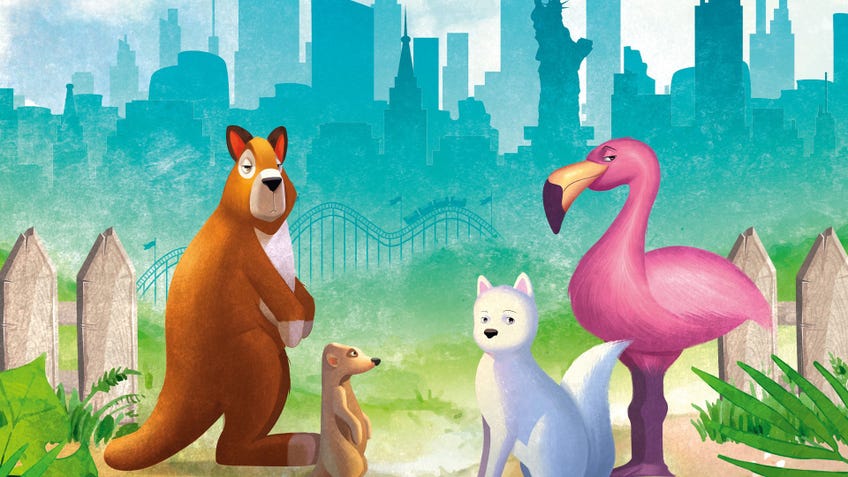 Design and populate a land of animal attractions in the next board game from Uwe Rosenberg, the creator of Agricola and A Feast for Odin, called New York Zoo.
New York Zoo is a tile-laying board game for one to four players wherein everyone must construct enough enclosures to fill their entire zoo complex. As players build more enclosures they must breed more animals to fill those enclosures, keeping a careful balance between building and breeding. (Thanks, BoardGameGeek.)
Each turn, players can choose to take the top enclosure tile from the shared pool underneath an elephant token, which they'll then need to fit within their zoo. As players continue to take tokens and fill their zoo, the spaces will get tighter and tiles will get smaller.
This makes the other available option - choosing to take an animal token - sometimes the better move, as players might have to wait for more suitable tiles to become available or need to fill in one of their enclosures.
As each pile of tiles is depleted, the elephant token will gradually move along the game's breeding line. Every new breeding milestone that is reached, has players who have housed certain kinds of animals score additional animal tokens to place in their zoo.
There are also attraction tiles to place, ranging from small to large, with the first player to take these getting the pick of the better pieces.
New York Zoo is the latest game about arranging tiles from Rosenberg, the creator of acclaimed tile-laying games such as Patchwork and Cottage Garden, as well as more heavy-duty tabletop experiences such as farming board game Agricola and Viking epic A Feast for Odin.
Co-publishing New York Zoo will be Feuerland Spiele, a German company responsible for releasing the popular strategy board game Terra Mystica, and Capstone Games, the label behind Pipeline, Watergate and the new edition of Bus.
New York Zoo debuted this week at Spielwarenmesse - the annual Toy Fair taking place in Nuremberg, Germany - and is set to release sometime in 2020.