Stroll under the stars in Nightfall, the first expansion for hiking board game Parks
Parks after dark.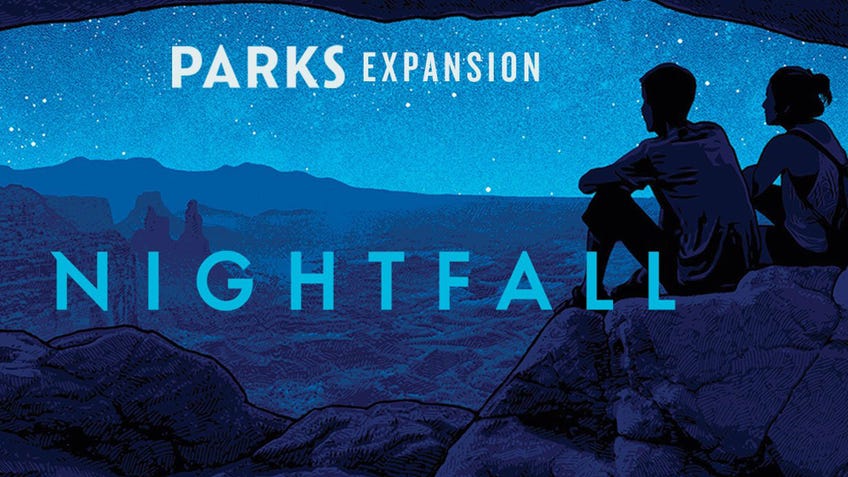 Explore the wilds after hours in Nightfall, the first expansion for nature exploration board game Parks.
Nightfall will come with new ways to explore the US' most picturesque national trails, featuring new gameplay and additional illustrations from the art collective Fifty-Nine Parks - whose series of prints celebrating US national parks became the catalyst for the creation of the original game.
Nightfall will feature 17 brand new park cards containing unique rewards not found in the base game, as well as a set of original year cards that offer fresh bonus scoring opportunities to players.
In addition to these new elements, Nightfall will also introduce a camping mechanic that'll seemingly allow players to experience Parks' trails in a completely different way - although publisher Keymaster Games is yet to reveal exactly how this will affect the core gameplay.
As the Dicebreaker team discovered when we played it last year, Parks is a gorgeous beginner board game for one to four players in which everyone controls two hikers as they make their way through scenic routes across various national parks. Along the way players collect certain resources in order to purchase park cards and gradually build up their overall scores. Players can also choose to take photos during their hike to add to their existing point total, with the player possessing the most points by the end of the last season winning the game.
In an email newsletter announcing the new expansion, Keymaster Games also teased the existence of an unannounced new game set in the Parks universe, but did not reveal an official name, release date or any further details.
The Kickstarter campaign for Parks: Nightfall will launch sometime in February.