Ratzzia is a board game about thieving mice from the creator of Noria and The Boldest
Pantry party.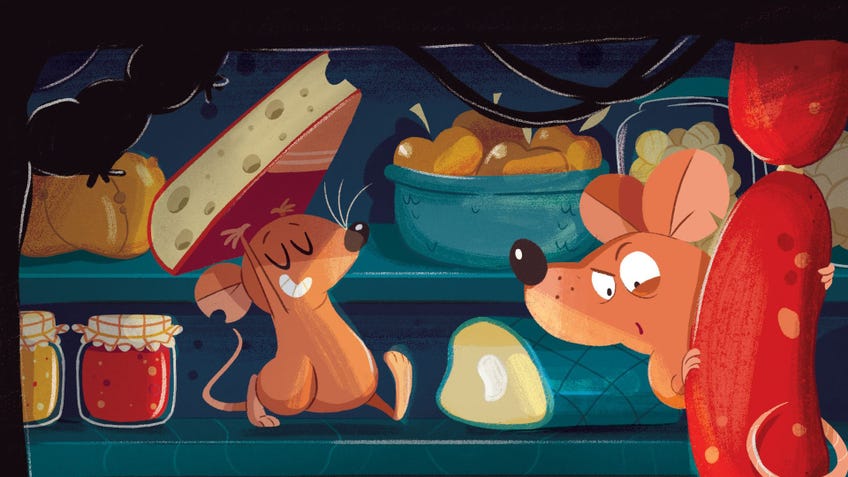 Scuttle round the kitchen shelves and steal as much food as possible in Ratzzia, the latest board game from the designer of The Boldest and Noria.
A family board game for two to five players, Ratzzia has players commanding families of mice in their efforts to gather enough food from a neighbouring pantry to survive the winter. Competing against other rodent families, players want their mice to climb up to the higher shelves in the search for the best food.
Each player has a set of coloured dice that they roll every turn, which they must place on the corresponding shelves on their board. The higher the result, the higher their mice get to climb - but players must be wary not to get too greedy or risk having their food stolen by other mice.
Once one player has collected 25 points worth of food, the game ends and they are declared the winner.
Ratzzia is designed by Sophia Wagner, the creator of fantasy-themed board game Noria - which she created an entire steampunk universe for - and winner of the German Game of the Year Fellowship award in 2015. More recently, Wagner created fantasy adventure board game The Boldest, released in 2018.
The game's publisher, Devir, is a company known for releasing Silk, a board game about shepherding large silkworms, and La Vina - a board game where players are fighting to become owners of an abandoned vineyard.
This year's wider release for Ratzzia is thanks to publisher Kosmos, the studio behind escape-room-in-a-box series Exit: The Game, two-player board game Lost Cities and recent co-op The Crew: Quest for Planet Nine.
Ratzzia is due to be released by Kosmos sometime in March this year, with a retail price yet to be confirmed.