D&D party game Rock, Paper, Wizard enters the ring as remake WWE: Headlock, Paper, Scissors
Hand-to-Hand combat.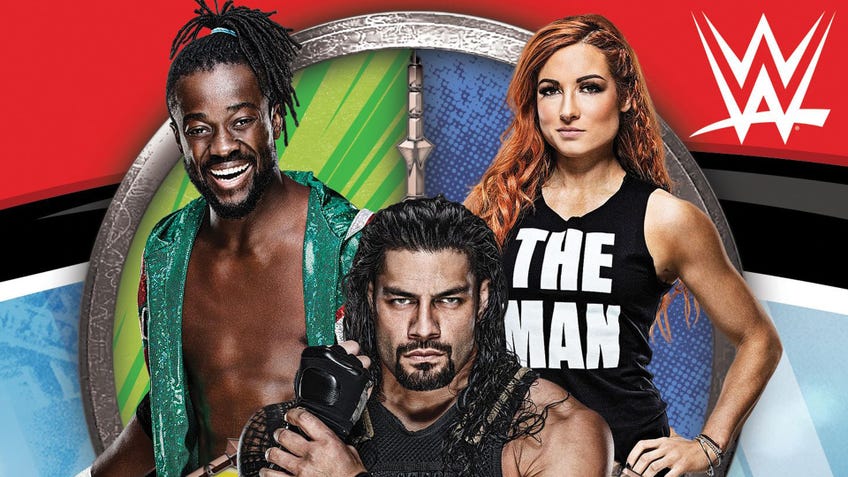 Play as wrestling superstars and take out unsuspecting opponents in WWE: Headlock, Paper, Scissors - the remake of party board game Dungeons & Dragons: Rock, Paper, Wizard. This newest WWE board game has players attempting to pull off moves and gain the crowd's loyalty by countering their opponents' techniques.
A party board game for three to six players Headlock, Paper, Scissors starts with everyone choosing from a collection of classic superstars such as Roman Reigns, Becky Lynch and Asuka, before they go toe to toe with rival wrestlers in a bid to make it to the Money in the Bank briefcase first.
Each superstar has a unique ability to help push them further towards and up the board's 3D ladder - for example, Becky Lynch can use Dis-Arm-Her to move to a space in front of another target. Should a player's superstar successfully make it all the way up to the top of the ladder then they are declared the game's winner.
However, they're going to have to contend with fellow WWE superstars to make it there by selecting a winning technique and the right target after everyone has chanted "Money in the bank!" Similarly to Rock, Paper, Wizard players will have to quickly react with their chosen technique's name and hand signal whenever anyone starts the chant - with the aim to outwit their opponents and win the bout.
But winning bouts isn't the only way that players can get ahead of their rivals as there are also comeback cards and underdog tokens to be played, which enable superstars who are trailing behind to catch up or even get ahead of the others.
Headlock, Paper, Scissors is created by Jay Cormier and Sen-Foong Lim, the designers of Junk Art, as well as Josh Cappel, who were also the team behind the original Rock, Paper, Wizard board game.
WizKids, the current publisher of Fury of Dracula, will be releasing Headlock, Paper, Scissors sometime this May for around £15.