Ancient Undead Spider Wizard is a vinyl EP sleeved in a playable tabletop RPG adventure
Wax and whacks.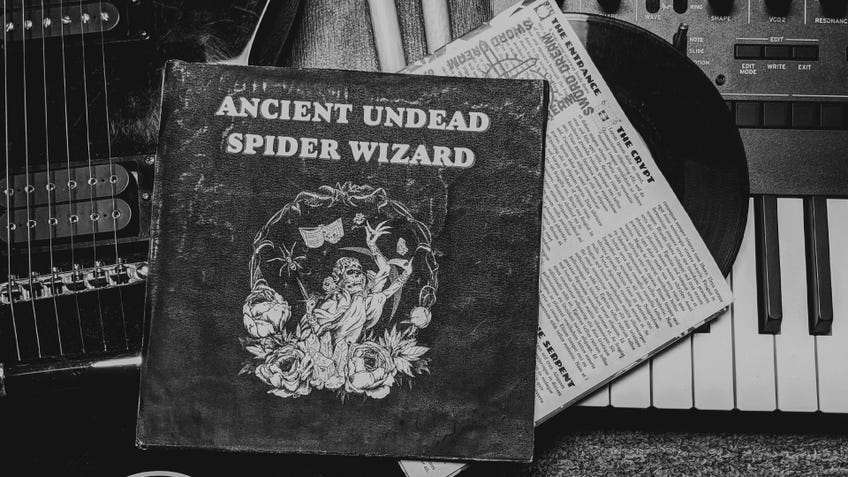 A tabletop RPG supplement that combines a seven-inch vinyl soundtrack with a fully playable dungeon-crawl adventure is launching on Kickstarter next week.
Ancient Undead Spider Wizard is written and recorded by creator Geoffrey Cullop, who will release the four-song EP and its accompanying 10-room dungeon under indie label Fish in the Pot.
The dungeon is inhabited by five original monsters, including the titular big bad and four guardians - The Spider, The Cat, The Vine and The Serpent - that players must defeat in order to retrieve treasure.
The four songs on the EP are instrumental tracks inspired by the encounters, while the vinyl's cover will feature the rules and information for running the adventure, along with art by illustrator Acid Lich and maps of the dungeon drawn by cartographer Abigail LaLonde.
The adventure has been designed for use with the second edition of The Black Hack, an OSR game based on the original 1970s rules of Dungeons & Dragons, but is said to be compatible with any other rules-light RPG system.
Ancient Undead Spider Wizard's Kickstarter will launch on October 1st, with a target goal of $3,000 to fund a limited pressing of the record. A release date is yet to be announced.
Ahead of the campaign's launch, Cullop released a music video for the first single off the EP, The Spider, which you can get an earful and eyeful of below.