Charity RPG event Roll for Good returns this weekend with D&D, Mörk Borg and other one-shots in support of LGBTQIA+ rights
Livestreamed roleplaying sessions will fundraise for ILGA World.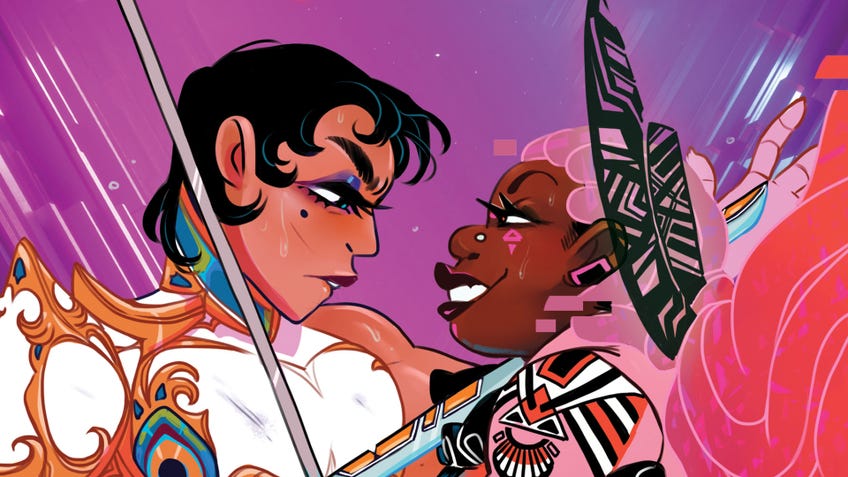 A charity event that raises money for good causes by streaming roleplaying games is back this weekend in support of LGBTQIA+ human rights.
Roll for Good is a community of volunteers who have previously raised money for trans, non-binary and gender-diverse youth-supporting charity Mermaids, food-providing nonprofit World Central Kitchen and mental health organisation Mind. The Roll for Good team is predominantly based in the UK and Europe, and includes many Queer, trans, neurodivergent, people of colour, women and femme, disabled and intersectional volunteers.
The group's latest weekend of philanthropic streams will include half a dozen one-shot sessions, alongside interviews, solo plays and giveaways aimed at raising awareness and funds for good causes.
The streams on May 27th and 28th will include April Kit Walsh's wonderfully affirming Queer RPG Thirsty Sword Lesbians, grimdark fantasy adventure Mörk Borg, Tales from the Loop sequel Things from the Flood - both based on the alt-history universe of artist Simon Stålenhag - Grant Howitt and Sasha Sienna's hilarious one-pager Himbo Treasure Hunt (in which players are muscled heroes embarking on a treasure hunt to save their gym), and How to be a Hero, the freely-available beginner-friendly RPG ruleset. Industry stalwart Dungeons & Dragons will also make an appearance.
Interviews will include Tomas Härenstam of Tales from the Loop, Alien: The RPG and The One Ring studio Free League, as well as Jasper W. Cartwright of actual play podcast Three Black Halflings. (Disclaimer: Dicebreaker's Liv Kennedy is also a member of Three Black Halflings.)
Roll for Good's May 2023 event will benefit ILGA World, the global International Lesbian, Gay, Bisexual, Trans and Intersex Association that campaigns for LGBTQIA+ human rights. The organisation was founded in 1978 and now spans six major regions across the world, as well as being an approved consultant for the United Nations' Economic and Social Council.
Roll for Good's charity event will kick off this Saturday, May 27th, and can be watched via the group's Twitch channel.